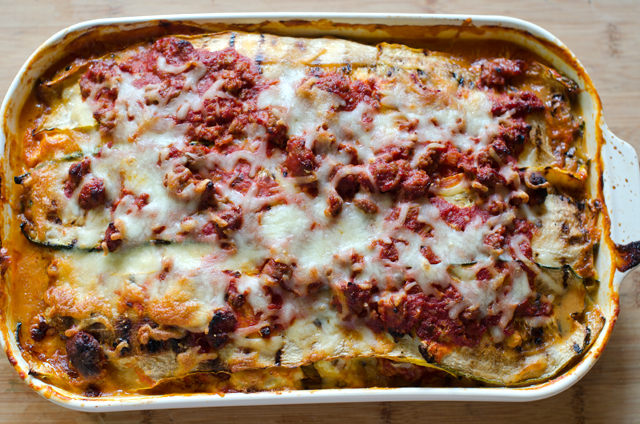 Gardeners, let's face it, we've all done it. You watch that cute little zucchini you've been nurturing along for several days, waiting for the moment when it's about eight to ten inches long, bright green with mottled white striping and the blossom still attached, ready for picking. But life isn't perfect, it rains for several days and you didn't make it out to the garden and now that cute little zucchini is the size of a miniature baseball bat. Don't despair, there are ways to still use them, zucchini lasagna is one of my favorites.
Zucchini lasagna "noodles" replace regular pasta for this delicious dish. I first cut the zucchini in half lengthwise so that I have a flat surface to cut my noodles. A mandolin is always my first choice for even uniform slices. If you weren't aware, a mandolin, isn't just a music instrument. It is a hand-operated kitchen tool with adjustable blades that in addition to making julienne and waffle cuts, makes uniform slices. Whatever model you choose, use the hand/finger guard, I speak from personal experience.  You can also go low tech and use a very sharp knife with a cutting board to stabilize your slices. I make my slices to fit the baking dish lengthwise, if you are using shorter zucchini, it's fine to cut them the other way, making sure they fit your dish.
Zucchini is 95% water so before you assemble the lasagna it is important to precook it so less moisture ends up in your finished dish. Suggested methods I've seen include broiling, sauteing and parboiling. I like cooking them in the grill pan, it gives added flavor to the zucchini and the slices have a nice finished look. Cooking the slices on an outdoor grill would make the process even faster. Cook more slices than you think you may need to allow for breakage.
This dish can be made in stages, make the meat sauce one day, slice and cook the zucchini the next, then assemble. Just like regular lasagna, it tastes even better the next day, if it lasts that long!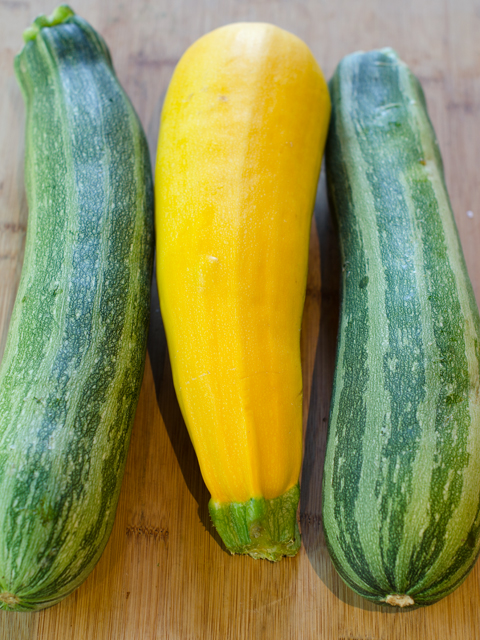 Zucchini Lasagna with Meat Sauce
Serves 6-8
Ingredients
Ingredients
3-4 or more large zucchini, sliced 1/8″ thick
Extra virgin olive oil for brushing zucchini
1 lb lean ground turkey or beef
1 ½ t kosher salt
1 T olive oil
1 c finely chopped onion
2 cloves minced garlic
1 quart plain tomato sauce ( I used homemade)
2 T tomato paste
2 t dried oregano
¾ t freshly ground black pepper
1 ½ c part skim ricotta cheese
½ c finely grated Parmesan
1 large egg
4 c shredded mozzarella cheese
Directions
Preheat oven to 375°F and place baking rack in the lower position.
Make zucchini lasagna "noodles". Cut squash into 1/8″ thick slices using a sharp knife or mandolin.  If your squash is long they should fit the pan lengthwise, if you have shorter squash, orient the slices in the opposite direction. You should have enough slices to do four to five layers with a few extra pieces for good measure.
Heat a grill pan or an outdoor grill to medium high heat. Brush both side of the slices lightly with olive oil.
Grill the zucchini slices on both sides so they have grill marks, 3-5 minutes for the first side, a little less for the second side. Squash should be cooked but not falling apart. Line up the grilled zucchini slices on a paper towel lined baking sheet to absorb excess moisture.
Heat a large saute pan over medium high heat and add 1 tablespoon olive oil. When the pan is hot add the onion and cook until onion is softened but not browned, 4-5 minutes. Lower the temperature if necessary. Add the garlic and cook another minute. Add the ground meat and season to taste with salt. Brown the meat, breaking it up as you cook it.
Slowly pour in the tomato sauce and stir it into the meat. Bring to a boil and immediately reduce heat to medium. Add tomato paste, oregano, salt and pepper. Simmer on low, stirring occasionally for about 40 minutes. Cover and set aside.
In a medium bowl combine ricotta, Parmesan and egg. Mix well.
Assemble the lasagna. Lightly oil or spray a 9 x 12 glass or ceramic baking dish.
Spread a light layer of the tomato sauce on the bottom of the pan. Layer zucchini slices over to cover. Spread one-third of the ricotta mixture over the zucchini and top with a cup of the mozzarella. Repeat the layers two more times, sauce, "noodles", ricotta mixture topped with mozzarella. Top with noodles and the remainder of the sauce. Cover the baking dish tightly with foil and bake for 30 minutes. Uncover the foil and bake for an additional 20 minutes to dry up excess liquid. Sprinkle the last cup of mozzarella over the top and bake until melted, about 15 minutes. Let lasagna rest for a half hour to allow it to firm up and make for easier slicing.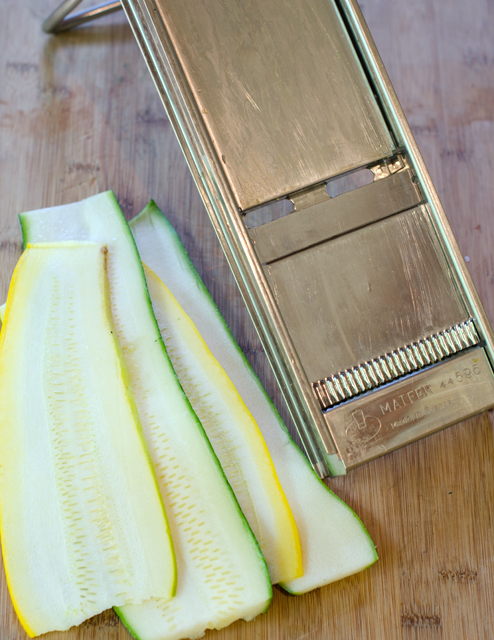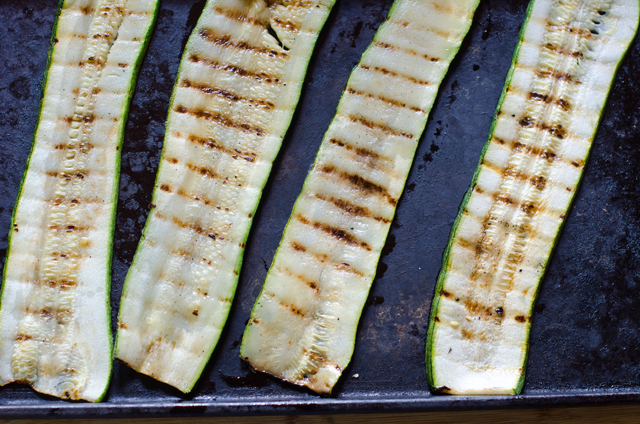 Zucchini slices cooked in the grill pan.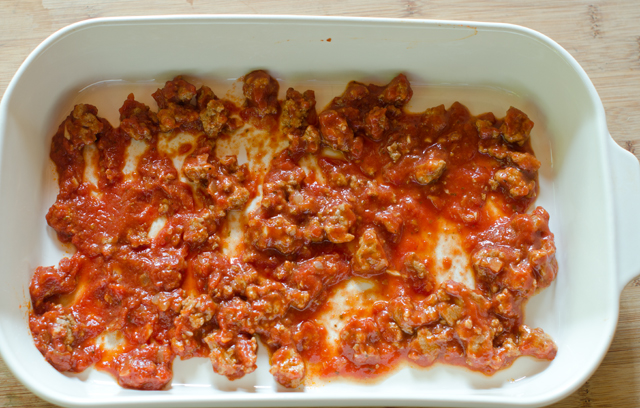 Meat sauce to cover the bottom of the baking dish.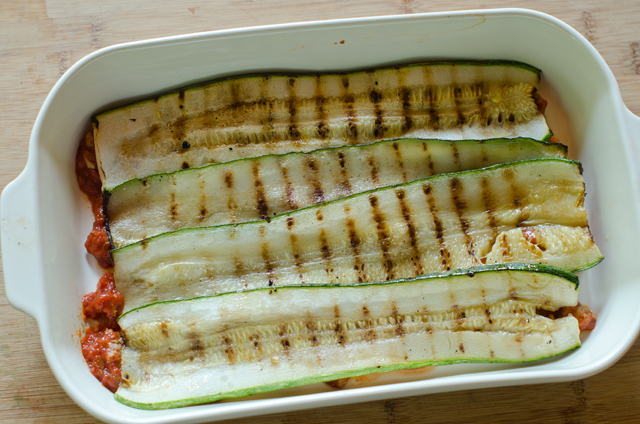 Grilled zucchini slices to cover.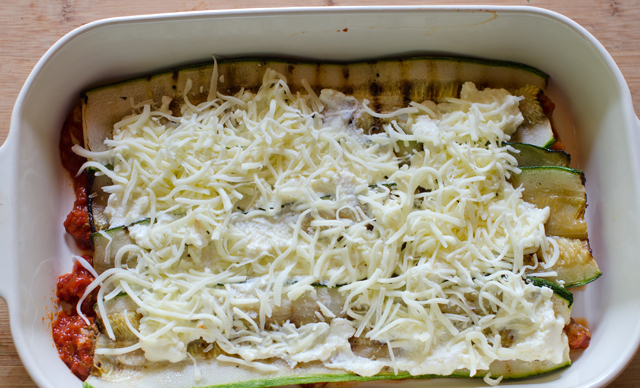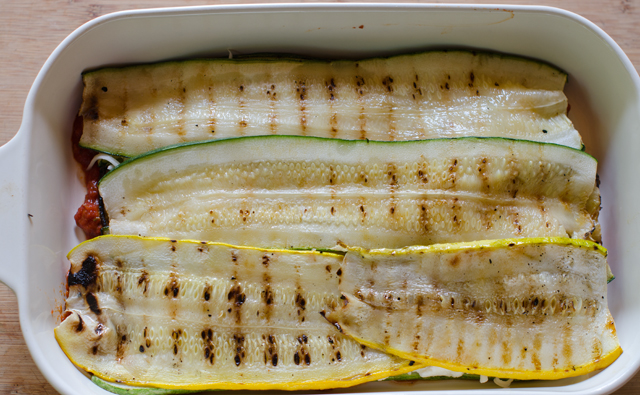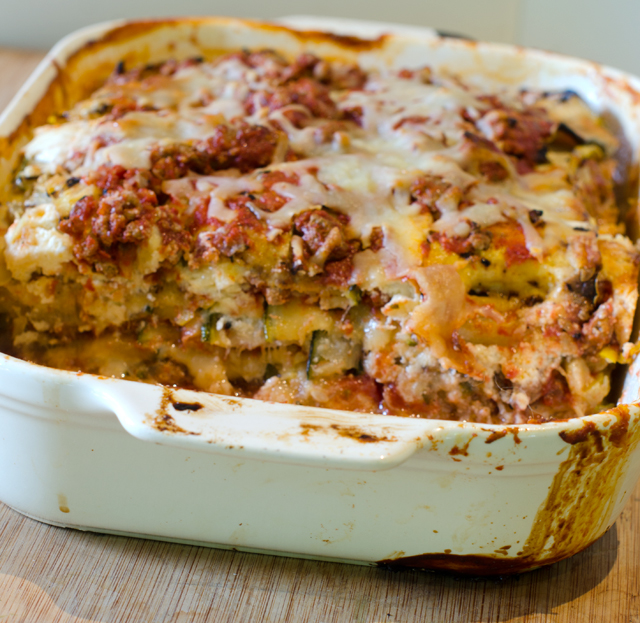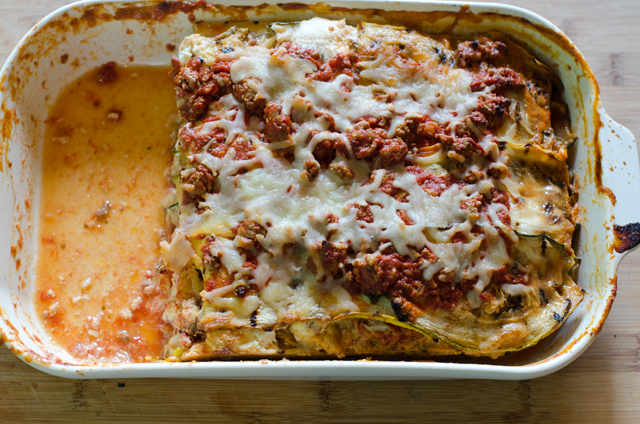 Delicious!