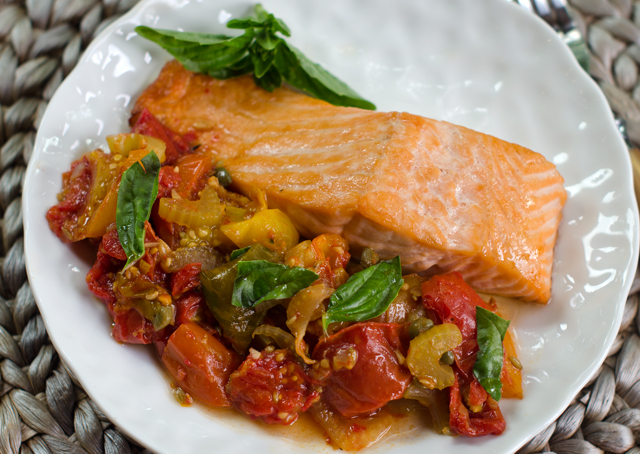 It's still officially summer for another week or so but it's easy to see that fall is in the air. We haven't experienced a ninety degree day in several weeks and the days are sadly growing shorter. The tomatoes are making their last gasp, maybe not quite tomato salad worthy but still so much more flavorful than anything a supermarket might have to offer.
This recipe, courtesy of Top Chef season two semi-finalist, Sam Talbot uses a combination of heirloom tomatoes, garlic, shallots, capers and fresh basil. The original recipe used sea bass but I substituted salmon with excellent results.
Scampi is the Italian word for a hard shell prawn or langoustine. Prized in the Mediterranean, they are pink in color and more closely related to lobsters. The traditional method of scampi preparation in Italy is to saute them with garlic, onion, olive oil and white wine. Italian American chefs adapted the preparation using more readily available shrimp. The dish was called shrimp scampi, as in "shrimp prepared in the style of scampi" and the name stuck.
This is a scampi sauce in the broadest sense of the term, it does have garlic, onion, in this case shallots, olive oil and white wine. It also includes celery, which gives some textural difference, briny capers and fennel seed that adds just a hint of anise.
Heirloom tomatoes aren't necessarily part of a scampi preparation either but they are a nice addition to this dish. Some of the varieties Joe grew this year included Garden Peach, Marvel Stripe, Cherokee Purple and both Red and Green Zebra, just to name a few. Heirloom tomatoes are open pollinated; pollen is carried by natural mechanisms like bees or wind. Heirlooms are varieties that are capable of producing seed that produce seedlings like the parent plant. In agriculture, the word "heirloom" doesn't have a precise definition but usually refers to varieties that are at least 50 years old.
As always, we cook our fish according to the Canadian fisheries method. Popularized by legendary chef, James Beard, it is very simple and quite foolproof. Measure your fillet at the thickest part, one inch of thickness equals ten minutes of cooking time at 450°F. If you prefer your fish a bit translucent, deduct a minute or so off the cooking time.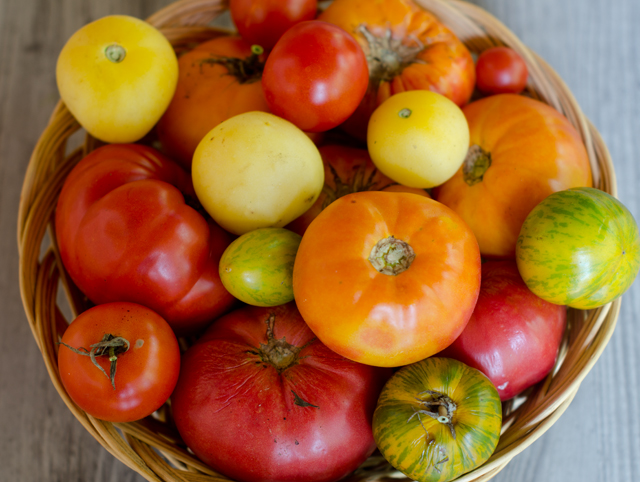 Salmon with Heirloom Tomato Scampi Sauce
 Ingredients
3 T extra virgin olive oil
6 cloves of garlic, finely chopped
2 shallots, finely diced
1 T fennel seeds, toasted in a dry skillet
4 celery ribs, sliced ¼ inch thick
1 T drained, chopped capers
¼ c dry white wine
1 T red wine vinegar
Grated zest and juice of 1 medium lemon
3 lbs mixed heirloom tomatoes, cut in wedges
1 cup tightly packed hand-torn fresh basil leaves
1½ lbs salmon filet, cut into 4 six ounces portions
Directions for the Sauce
In a large skillet, heat the oil over medium high heat. Add the garlic, shallots, and fennel seeds and cook, stirring frequently, until the shallots are translucent about 2 minutes.
Add the celery and capers and cook until the celery has softened, about 2 minutes.
Add the wine to the pan and cook until it is reduced by half, about 1 minute. Add the vinegar, lemon zest and juice, tomatoes and basil and cook for 1 to 2 minutes to incorporate the flavors and heat the tomatoes through.
Directions for the fish
A half hour before cooking bring the fish out to bring it to room temperature. Adjust oven rack to the middle position and preheat to 450°F.
Measure fish at the thickest part of the fillet with a ruler, one inch of thickness equals about 10 minutes of cooking time. Evenly space fish fillets in a lightly oiled baking pan and transfer pan to the preheated oven. Bake for the designated time.
Serve the salmon fillets topped with tomato scampi.