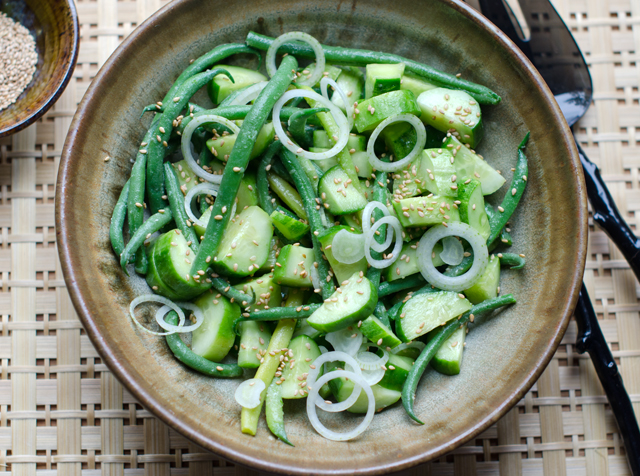 I couldn't bear to do it, smash the cucumbers and green beans as called for in this recipe that is. This very easy and flavorful dish from the June issue of Bon Appetit uses a technique popular in many Asian countries. Smashing the cukes and beans with a cleaver or a rolling pin tenderizes them and makes lots of nooks and crannies for the dressing to permeate. But not with the first green beans and cucumbers from the garden this season. Maybe in a week or two but for now I will use a more traditional approach. This recipe is quite similar to pau huang gua, a Sichuan cucumber salad, typically served with rich spicy food.
Start the recipe by peeling the cucumber, I like to leave a small strip of skin for color contrast. Chop into bite sized pieces and toss with a little salt to draw out excess moisture. The beans were an interesting addition, the original recipe in Bon Appetit didn't call for cooking them, I presume they thought dressing them would do the job of tenderizing them. I chose to blanch the beans for just a few minutes to make them crisp-tender and ready to absorb the dressing.
The dressing couldn't be easier, the ginger, garlic and serrano pepper are all grated, a Microplane makes quick work of that. Combine these ingredients with white miso, rice vinegar, olive and sesame oil. Miso is a fermented soybean paste traditionally used in Japanese cooking. White miso will provide a more delicate flavor, switch in a red miso for a stronger and saltier flavor. You will find miso in the refrigerated section of Asian grocery and health food stores.
Place the well-drained cucumbers and green beans in a bowl and toss with some of the dressing, just enough to coat the vegetables. You will have more than enough, which is a good thing. Toss sautéed eggplant and zucchini with halved cherry tomatoes with the dressing for another version of this dish.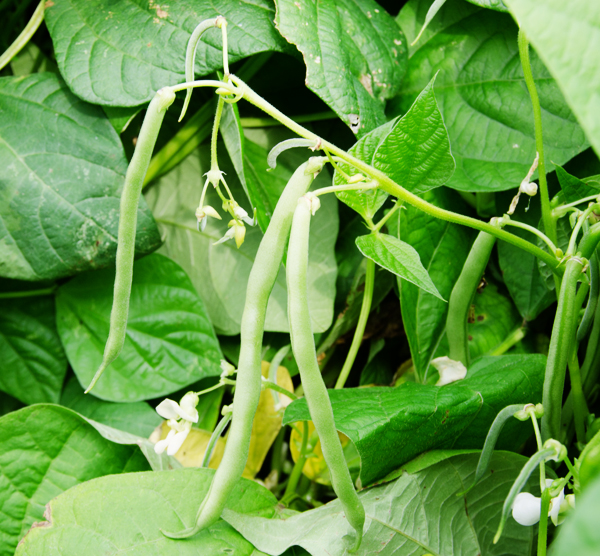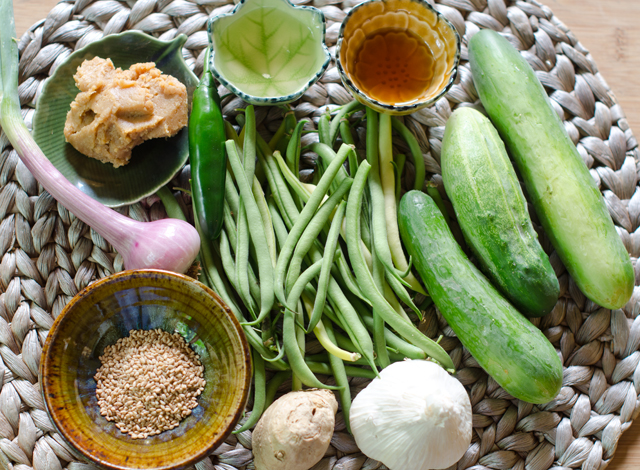 Green Beans and Cucumbers with Miso Dressing
Serves 4
Ingredients
3 Persian cucumbers or 1 English hothouse cucumber
Kosher salt
1 lb green beans, stems trimmed
1 1½ piece ginger, peeled and finely grated
1 serrano or Fresno chile, finely grated
1 garlic clove, finely grated
1/3 c unseasoned rice vinegar
¼ c white miso
¼ c olive oil
½ t toasted sesame oil
Toasted sesame seeds and scallions or thinly sliced shallots for serving
Directions
Peel cucumbers and chop into bite-sized pieces. Toss with a pinch of salt in a medium bowl. Let sit to allow salt to penetrate.
Bring a medium sized pan of water to a boil with a pinch of salt. Add beans and cook until just tender, 3-4 minutes. Drain beans in a colander.
Whisk ginger, chile, garlic, vinegar, miso, olive and sesame oils in a medium bowl until smooth.
Transfer the beans to a bowl for serving and toss with the dressing. Drain cucumbers well and add to the bowl, toss again. Top beans and cucumbers with toasted sesame seeds and scallions.