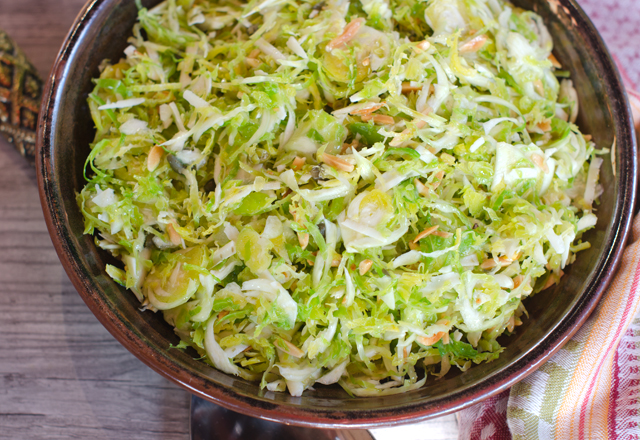 The last two days have brought us very pleasant but unseasonable temperatures in the seventies. While opening a window to let some fresh air in I spotted two pansy "volunteers" that had sprung up close to the house but not in an area where we normally plant anything. On a walk down to the garden I spotted the first dandelion. An early spring? Looks like even though the temperatures are going back into the forties by this evening. A few days of warmth is not enough to show evidence of new life in the garden. There are some beet greens and radicchio under a cold frame and I will take it on Joe's word that there is miners lettuce and some kale in the greenhouse. I did see a bit of green in the circle garden, the beginning of the rebirth of the Chinese chives. In a month or two we will be pulling them out by the bucketfuls but for now it's nice to see that first poke of green, letting us know that spring isn't that far off. Until then my produce is from the local supermarkets and club stores.
This Brussels sprouts salad is simple and delicious with a satisfying crunchy texture. The sprouts can be sliced in no time in the food processor, I used a 2 mm (thin) slicing disk or with a mandoline; trust me use the guard. If you want to work on your knife skills, slice them by hand. The dressing couldn't be simpler, extra virgin olive oil, lemon juice, salt, pepper and capers. If you always wondered what those little green things are, capers are the unopened flower buds of Capparis spinosa, a prickly perennial shrub like bush, native to the Mediterranean and some parts of Asia. The buds are harvested, dried in the sun and then pickled in vinegar, brine or salt. The size of a caper can be as small as a green peppercorn, and as large as a small olive. The largest ones are usually served as part of an antipasto platter, the small ones are referred to as non pareils (French for without equal), the size best suited for this recipe. Many recipes call for rinsing them first but I would say taste them and decide for yourself. Rough chop the capers and add them to the dressing. Shredded Asiago cheese compliments the salad with it's creamy nutty flavor. Finish the salad off with toasted slivered almonds and garnish with thinly sliced scallions. Leftovers are even better the next day.
Brussels Sprouts Salad with Lemon Caper Dressing and Asiago Cheese
Makes 4-6 servings
Ingredients
1 lb Brussels sprouts, core ends trimmed. damaged outer leaves removed
½ c extra-virgin olive oil
¼ c lemon juice
1 t lemon zest
¼ c capers, roughly chopped
1 clove garlic, chopped
¼ t kosher salt or more to taste
freshly ground black pepper
2/3 c Asiago cheese
½ c toasted slivered almonds
2-3 scallions, sliced thinly on the diagonal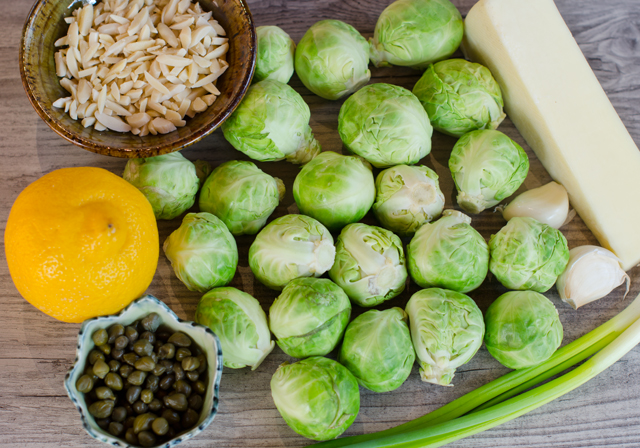 Directions
Shred the Brussels sprouts using the slicing disc of a food processor.  You can also slice them by hand with a well sharpened knife or a mandoline slicer. Place shredded sprouts in a bowl large enough to toss them in.
In a small bowl whisk together the olive oil, lemon juice and zest, capers, garlic, salt and pepper. Pour about two thirds of the dressing over the sprouts and toss. Add the toasted almonds and Asiago cheese and toss again. Taste and add more salt if needed and additional dressing if needed. Garnish with chopped scallions and serve immediately.