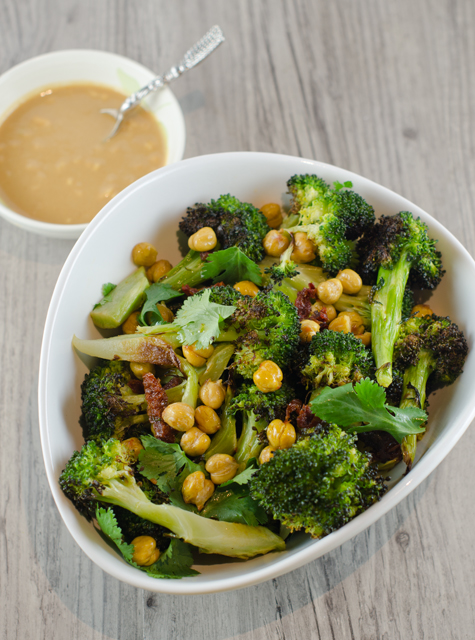 Broccoli is an all season favorite that usually has a place of prominence at the front of the produce aisle. I love to roast broccoli toss it with olive oil and sprinkle with salt and pepper. It's so good we're lucky it makes it to the dinner table. This time I used a little restraint and combined it with some roasted chickpeas, cilantro leaves and sun-dried tomatoes. A tahini dressing brings it all together and makes a wonderful winter side dish. If you don't like cilantro, substitute flat leafed parsley.
Roasted Broccoli Salad with Tahini Lemon Dressing
Serves 4
Ingredients
1¼ to 1½ lbs broccoli crowns
2-3 T extra virgin olive oil
Kosher salt and freshly ground black pepper to taste
2 T tahini
1 ½ T lemon juice
2 t balsamic vinegar (white preferably)
1 t tamari
1 t honey
1 clove garlic, finely chopped
1 c chickpeas
1 c cilantro leaves
2 T finely chopped sun-dried tomatoes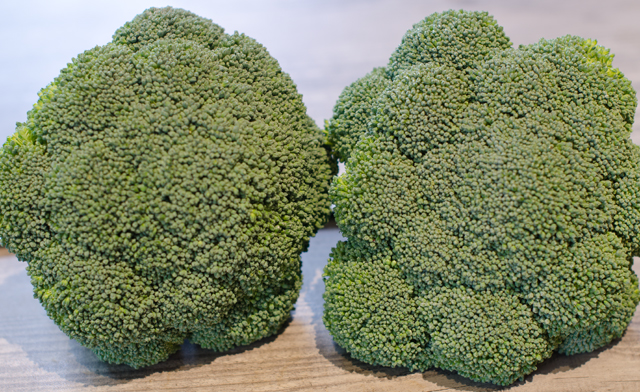 Directions
Preheat oven to 425°F. Line a large baking sheet with parchment paper. Cut the broccoli into florets, including some of the stem. Place broccoli in a large bowl and toss with olive oil, salt and pepper. Move the broccoli to a baking sheet and place in an even layer.
Roast until the broccoli is nicely browned, stirring and flipping the pieces occasionally, check after 5 minutes. Roasting will take about 15 minutes total. Leave oven on.
While the broccoli is roasting, combine the dressing ingredients, tahini, lemon juice, balsamic vinegar, tamari, honey, chopped garlic in a small bowl. Stir to combine and add a little water if needed to thin the dressing.
Drain and rinse a can of chickpeas. Place them on clean cloth kitchen towel or paper towels to dry and roll gently to remove skin. Place chickpeas on the same baking sheet that the broccoli was on and roast until they turn golden brown in spots. Roll the chickpeas around on the sheet during the baking time to ensure even browning.
In a large bowl place the roasted broccoli, chickpeas, cilantro leaves and sun-dried tomatoes. Toss gently. Drizzle dressing on individual portions and serve immediately.