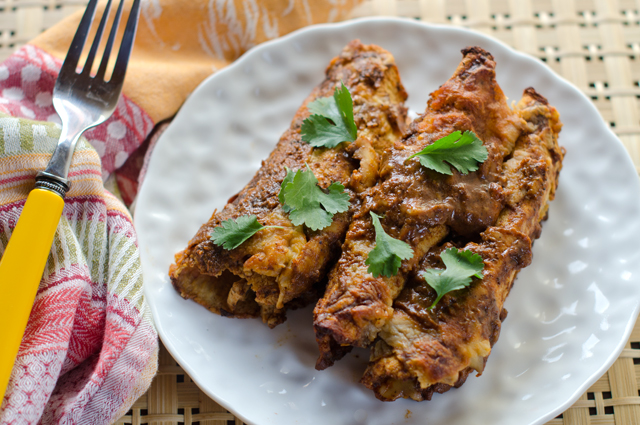 Now that I've mastered the cauliflower tortilla I thought it would be fun to try them in a chicken enchilada recipe. The "caulitillas" are just about the same size as a corn tortilla and not delicate as I was originally concerned, but very pliable and sturdy. Of course corn tortillas are what you would typically use and would be fine in this recipe. You can buy enchilada sauce in the supermarket but it's quick and quite simple to make your own. You also can control the heat to your own taste. My advice would be to start out on the safe side with the amount of chili powder you add, you can always add more, it's harder to tame the heat. I used a combination of regular and chipotle chili powder for its smoky quality. Measure out your ingredients before you start the recipe because you will be busy whisking to ensure a smooth sauce.
Heat the oil in a medium saucepan until it begins to sizzle. Add the flour and spices, whisking constantly until the spices become fragrant and deepen in color. Add tomato paste, tomato sauce and chicken stock and continue to whisk constantly to remove any lumps. Allow the sauce to come to a simmer, it will begin to thicken slightly. Taste sauce and adjust seasonings to your liking.
Now it's time to assemble, you should have ready, a 9 x 13  inch baking dish, the tortillas, the warmed filling, the warmed sauce and shredded cheese.   I chose to make a filling of shredded chicken and sautéed mushrooms but this sauce would be good with many filling combinations. Many recipes call for dipping the tortilla in the chili sauce. I thought that was too messy so I just put a thin layer of sauce in the bottom of my casserole dish.
Lay out your tortilla and spread about two tablespoons of the filling down the center. Roll up the tortilla and place seam side down in the baking dish. Repeat with the remaining filling and tortillas. Top with additional sauce and shredded cheese and bake until the cheese is melted. Not the prettiest dish for certain, but definitely delicious. Leftovers heat up nicely.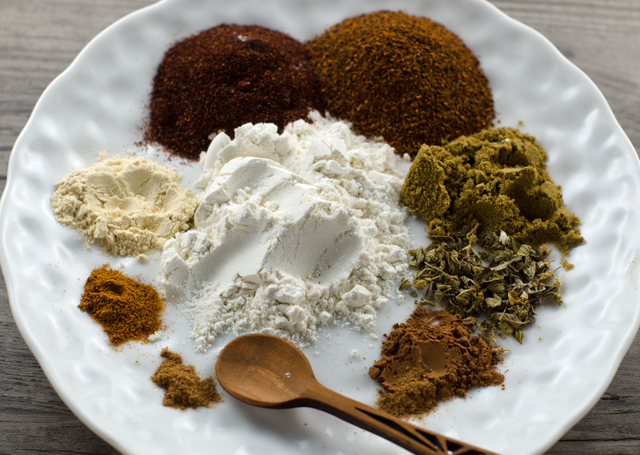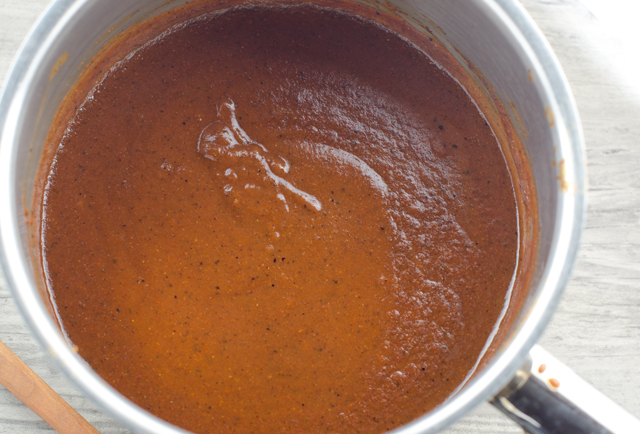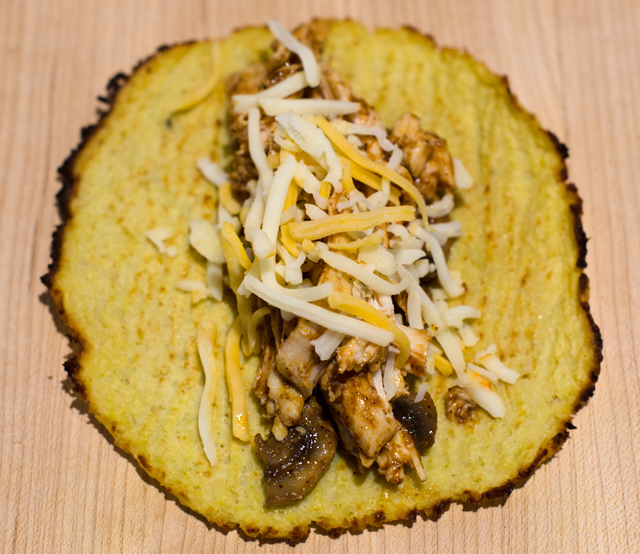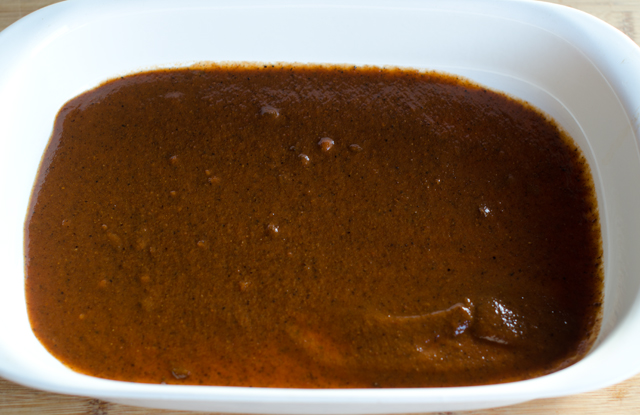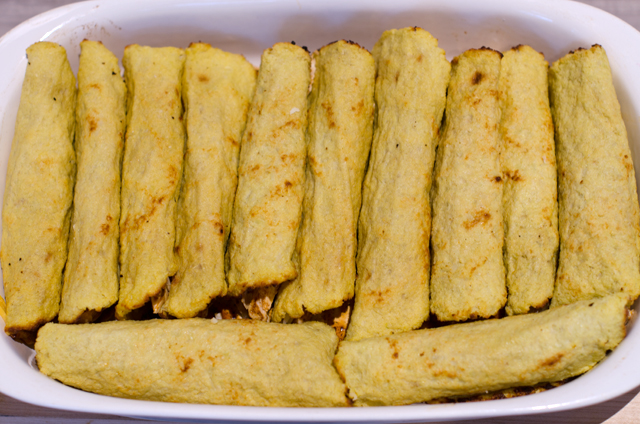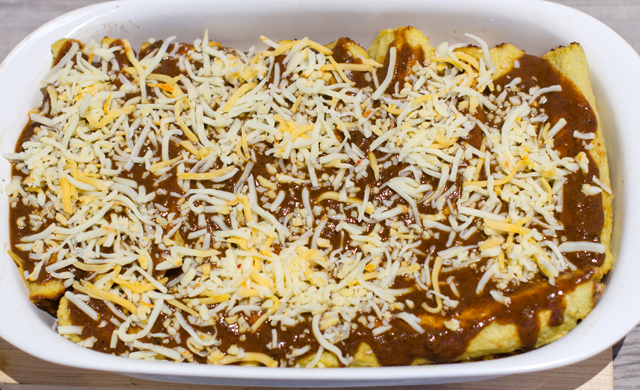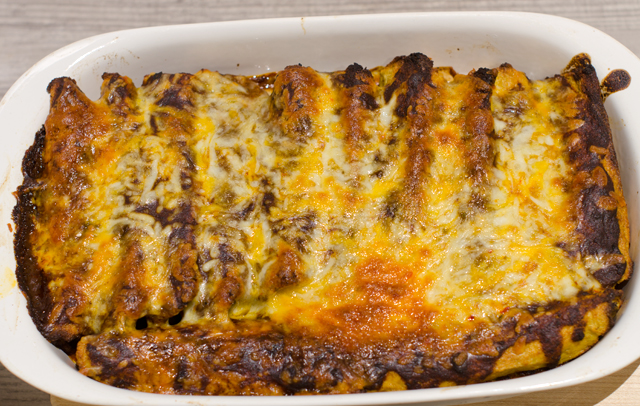 Chicken Enchiladas
Makes 10-12
Red Enchilada Sauce
Makes about 2½ cups
Ingredients
2 T vegetable oil (I used avocado)
2 T all-purpose flour
3 T chili powder-I used 2 T regular and 1 chipotle (Penzey brand)
1 ½ t ground cumin
½ t dried oregano (Mexican is best)
½ t kosher salt
1/8 t cayenne pepper
¼ t cocoa powder
pinch of cinnamon
3 oz tomato paste
2 c chicken or vegetable broth
½ to ¾ c tomato sauce
Directions
Measure out the flour and the spices into a small bowl.  Whisk to combine.
In a medium saucepan over medium high heat, warm the oil until it begins to sizzle.
Add the flour/spice mixture and whisk constantly. Cook until fragrant and darkened in color.
Whisk in the tomato paste and sauce until thoroughly combined with the flour/herb mixture. In a steady stream, whisk in chicken broth.
Reduce heat to medium and let sauce come to a simmer. Cook 8 to 10 minutes, sauce will thicken slightly. If not using immediately you may need to thin it out with a little stock or water.
Remove the sauce from the heat and let cool slightly. Add salt and freshly ground pepper to taste.
Shredded Chicken and Mushroom Filling
Ingredients
Directions
In a medium saute pan cook the mushrooms over medium high heat until they release their juices and are softened, 6 to 8 minutes.
In a medium bowl add chicken and slightly cooled mushrooms.
Stir in about a half cup of sauce to moisten the ingredients.
Assembly
9 x 13″ baking dish
10-12 corn tortillas or "caulitillas"
Chili sauce
2 c shredded Mexican blend cheese
Preheat oven to 375°F
Coat the bottom of the baking dish with a thin layer of the sauce.
Set up an assembly line to make the tortillas: corn or cauliflower tortillas, chicken mushroom filling, cheese and sauce.
Lay out a tortilla and place about 2 generous tablespoons of the filling down the center of the tortilla. Sprinkle a little cheese on top. Roll it up with your fingertips and place in the baking dish, seam side down. Continue rolling and filling the rest of the tortillas.
Pour the remaining sauce over the enchiladas and sprinkle with the remaining cheese. Bake for 20 minutes and serve immediately.