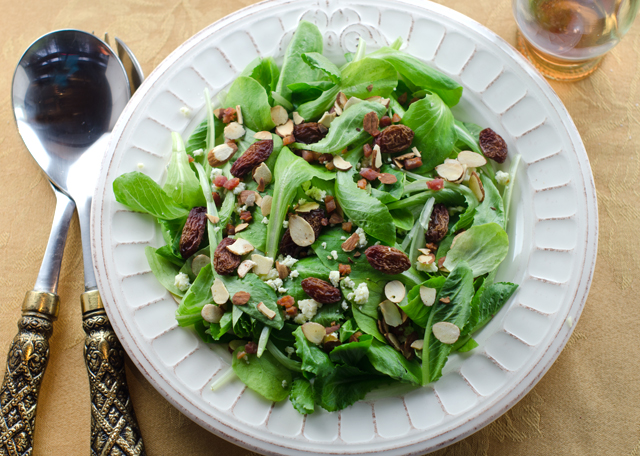 The holidays have been over for more than a week now and it's time to put down the sweets and get back to healthy eating again. Salads are always an important part of our dinner and I am always looking for new ways to make them interesting and flavorful.
I recently saw a recipe for dried grapes and thought it would be fun to try. I used my own method of  stemming and washing the grapes and drying them on wire rack over a baking sheet. Having a convection oven is a plus here. I achieved the right amount of shrivel and concentration of flavor in eight hours.
The preparation was simple and quick and was mostly hands-off during the process. I was very pleased with the results. To complement my new found ingredient, I made a salad of baby romaine, blue cheese, toasted almonds, dried grapes and some sauteed pancetta crumbles. The right combination of sweet, salty, crunchy, creamy and crispy.
Dried Grapes
Ingredients
A bunch of red seedless grapes
Directions
 Preheat oven, convection is best here, to 185°F.
Stem and wash the grapes thoroughly. Shake off excess moisture in a colander.
 Place a wire rack over a baking sheet. Distribute the grapes over the wire rack making sure there is space between each grape.
Place baking sheet in oven. Check occasionally and flip the sheet around, front to back to ensure even cooking.
The grapes will start to shrivel at the four hour mark and mine were done at eight hours. Store grapes in a container in the refrigerator.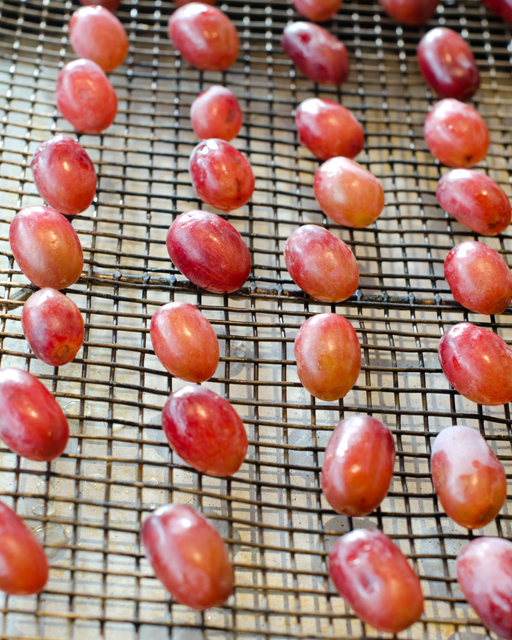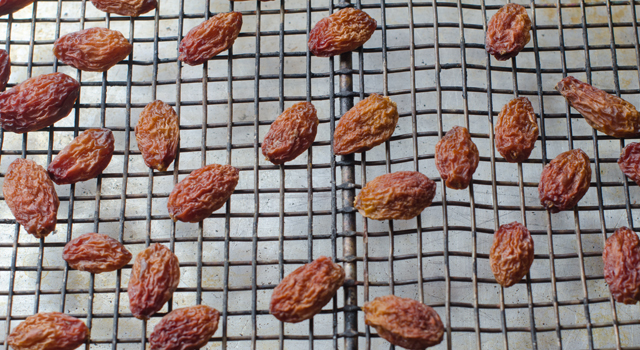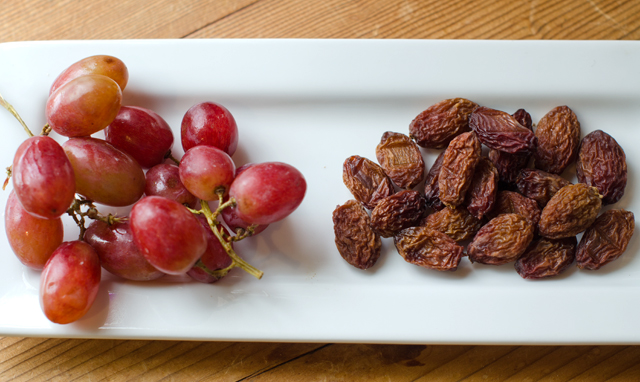 Winter Salad
Serves two
Ingredients
4-5 cups of baby romaine
¼ c crumbled blue cheese
¼ c toasted almonds
¼ c sauteed pancetta crumbles
Dried grapes to taste
3 T extra virgin olive oil
1 T balsamic vinegar ( I used cranberry pear)
¼ t Dijon mustard
Kosher salt and freshly ground pepper
Directions
Combine romaine, blue cheese, toasted almonds, pancetta crumbles and grapes in a bowl large enough to toss the ingredients.
Combine the olive oil, balsamic vinegar and Dijon mustard in a small bowl and whisk together.  Add salt to taste.  Toss salad with the vinaigrette and season with freshly ground pepper.