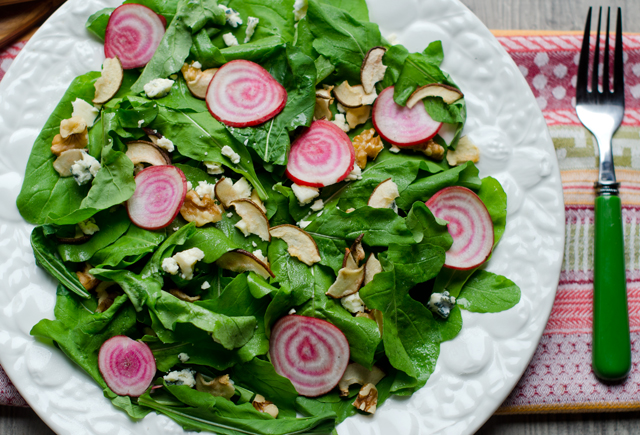 The vegetable garden doesn't end at our house just because summer is over. Joe's new crop of salad greens, planted in the greenhouse are ready to be harvested. I typically use a variety of greens in our salad but this time I let arugula take the starring role. Nutty and just slightly peppery arugula is combined with a finely sliced Chiogga beet also courtesy of the fall garden, creamy blue cheese, walnuts and some of the Asian pear slices that I made in the last post.
Fall is a good time to get in another crop of some root crops like radishes, turnips and beets. Along with the salad greens, the root vegetables prefer cooler temperatures. This year has been tough, summer like heat and humidity has stayed around well into October (I'm not complaining) and it has affected the plantings, especially the radishes. I've started to harvest some beets while they are still small and sweet for salads.
I especially like the Chiogga (kee-OH-gee-uh) beet for its deep pink and white spirals, it adds a pretty pop of color to an otherwise dull salad. I like them raw, shaved as thinly as possible on a mandolin. The sweet earthy flavor contrasts nicely with the arugula. Blue cheese and toasted walnuts are always a natural with arugula. I chose a buttermilk blue that is described as tangy yet mellow. It has a creamy taste and texture and doesn't overwhelm the other elements of the salad.
The dehydrated Asian pear slices I made in the last post are great for snacking, and for a bite of fruity sweetness in salads like this one. Dehydrating intensified the already sweet pears.The pears resemble mushroom slices so they would be quite a surprise for an unaware diner biting into one. If you didn't make the dehydrated pear slices, substitute a thinly slice fresh Asian pear.
I dressed this salad with a simple vinaigrette using a Tubby Olive Gravenstein apple white balsamic vinegar with a good extra virgin olive oil with just a touch of walnut oil. You could substitute a white balsamic vinegar with just a touch of honey.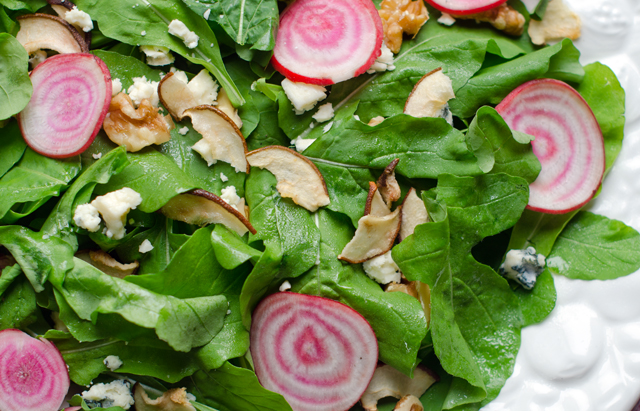 Arugula Salad with Pears, Beets, Blue Cheese and Walnuts
Serves two
Ingredients
2 T white balsamic vinegar or Gravenstine apple balsamic
1 t Dijon mustard
½ t honey (not needed if using apple balsamic)
4 T extra virgin olive oil
1 T walnut oil
kosher salt and freshly ground pepper
4 large handfuls arugula (about 12 ounces)
¼ c dried Asian pear pieces or 1  ripe pear, cored and sliced thin
1 small beet, scrubbed and trimmed, sliced very thinly on a mandolin
3 ounces soft blue cheese, crumbled
Directions
In a small bowl, whisk together the balsamic vinegar, mustard, and honey. Gradually pour in the olive and walnut oils, and continue whisking  until the dressing has emulsified. Season with salt and pepper.
Divide the arugula between plates. Top with the beet slices, walnuts, sliced pear and blue cheese, then drizzle with vinaigrette.