When it comes to Thanksgiving dinner I am a traditionalist. For the main course, it's always a juicy roast turkey and another one hot off the smoker. Not to mention the additional variations we tried in previous years, wrapped in puff pastry à la Martha or cooked outdoors in a deep fryer, not advisable on a windy day on a wooden deck. But when it comes down to it, I am most excited about the side dishes. For many years we hosted Thanksgiving dinner for family and friends and I was driven to make countless side dishes featuring every fall vegetable I could think of.
Now we are part of a collaborative effort of family, friends, and friends who feel like family. Our offering is a smoked turkey and a few side dishes. Fortunately I was able to draw from the bounty of our garden to make a butternut squash gratin. At Thanksgiving dinner I was asked what a gratin is and I shared the following. A gratin is always baked and/or broiled in a shallow dish. The topping is traditionally cheese and/or breadcrumbs that should get crispy in the cooking process. Gratin is derived from the French word gratiner-to broil.
This recipe begins with lots of thinly sliced onions sautéed in butter until softened and golden brown. Butternut squash cubes are added next and sautéed along with the onions until both are caramelized. This recipe can be made much easier with the advent of peeled, seeded and cubed butternut squash, available in many supermarkets. As for me I will be hacking away at my stash of butternut squash all the way to spring.
Pour the vegetable mixture into the buttered baking dish, cover and bake. Another plus is this step can be done a day ahead, just cool and refrigerate until you are ready to finish the dish. Make the breadcrumb mixture ahead as well and store separately in the refrigerator. If you are making components ahead of a special dinner, label them well so that your well-meaning kitchen help doesn't mix them up! On the day you are cooking the dish, reheat for about 10 minutes, sprinkle with breadcrumb, cheese and herb mixture. A sharp cheddar is a good contrast to the sweetness of the butternut squash. Not just for your holiday table, this would be great as a side dish for weeknight suppers, any fall gathering or even as a brunch dish.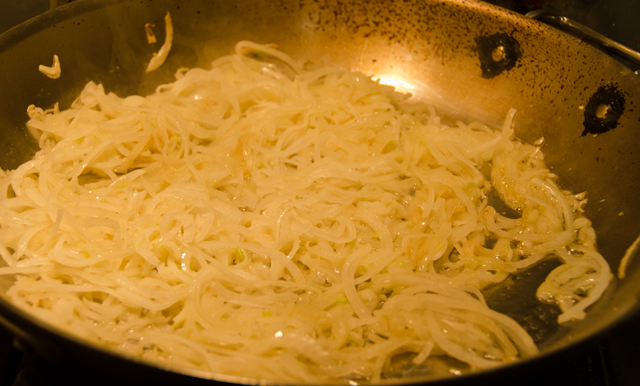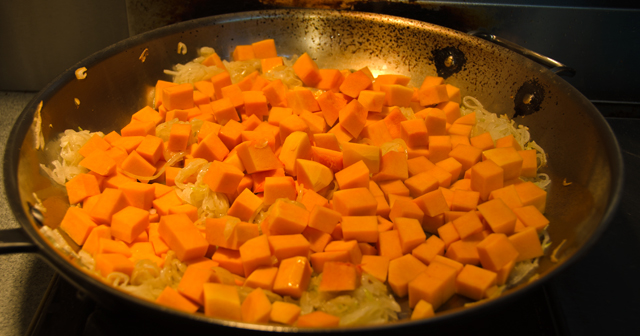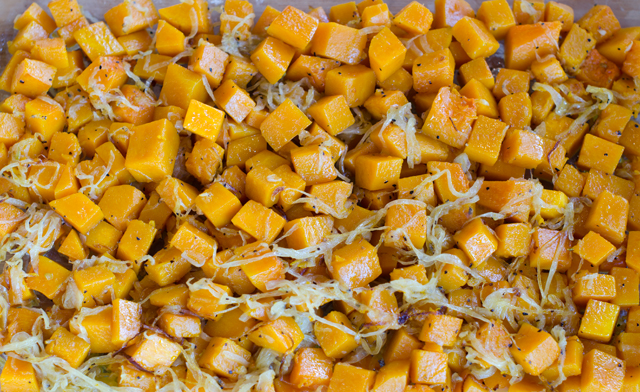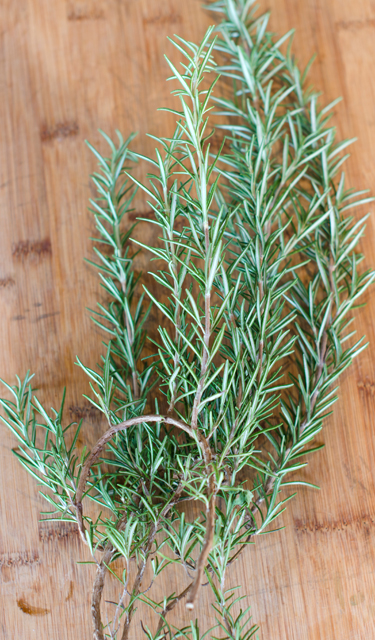 Butternut Squash Gratin with Rosemary Breadcrumbs
Serves 6-8 as a side dish
Ingredients
¼ c (½ stick) unsalted butter
4 c thinly sliced onions
2½ to 3 lbs butternut squash, peeled, seeded and cut into ¾ inch cubes
1 t sugar (optional)
½ t salt
½ t freshly ground black pepper
¾ c chicken broth
2 c bread crumbs made from soft white bread
2 c packed grated sharp white cheddar cheese
1 ½ T chopped fresh rosemary
½ t dried thyme
Directions
Preheat oven to 350°F. Butter 13x9x2-inch glass baking dish.
Melt butter in a large heavy skillet over medium high heat. Add onions; sauté until onions are light golden about 8 minutes. Add squash; sauté 4 minutes. Sprinkle sugar, salt and pepper over vegetables; sauté until onions and squash begin to caramelize, about 5 minutes
Spread vegetable mixture into prepared dish. Pour chicken broth over. Cover tightly with foil and bake 45 minutes. (Squash mixture can be made 1 day ahead. Cool, then cover and refrigerate. Reheat in a 350° oven until heated through, about 10 minutes.)
Increase oven temperature to 400°F. Mix breadcrumbs, cheese, rosemary and thyme in a medium bowl. Sprinkle over gratin.  Bake uncovered until top is golden brown and crisp, about 30 minutes.