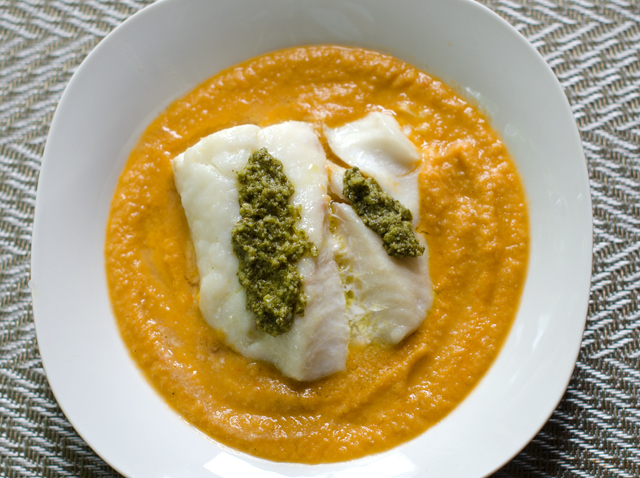 Fish is on the menu at our house three nights a week and though the method of cooking is usually the same, I am always looking for new ways to complement it. This recipe, Baked Cod Fillet with Bouillabaisse Sauce with Green Olive Tapenade from the April issue of Food and Wine seemed to fit that bill. It combines the classic flavors of bouillabaisse: fennel, garlic, saffron and tomatoes, to make a delicious sauce along with a quick briny olive tapenade.
The origins of bouillabaisse can be traced as far back as the ancient Greeks and was the humble fare of fishermen in Provence, specifically from the port city of Marseille. The best of the catch would be sold to restaurants while the less desirable bony rockfish and shellfish would become part of the fisherman's dinner, a stew cooked with sea water and simmered over an open fire. Bouillabaisse has come a long way since then to become one of the most iconic French dishes.
The first step of the recipe is to chop the fennel, leek, onion and celery. This can be done by hand or a food processor makes quick work of this step. Just be certain that all pieces are relatively the same size to ensure even cooking. Sauté the vegetables over medium heat until softened then add the garlic and saffron. Saffron adds a subtle flavor and aroma and its beautiful golden color. At about forty dollars a bottle, Pernod is an ingredient I could not justify buying since I was only using a few tablespoons. It adds a subtle anise flavor so if you have some on hand, by all means use it. Add dry white wine and vermouth to the pot and reduce the liquid by half. Next into the pot are halved and smashed cherry tomatoes, grape tomatoes are an acceptable substitute here.
The next step is to make fish stock. I am fortunate to have an outstanding fish market that supplies me with fish bones and heads needed for stock making. If making fish stock would stop you from making this recipe, substitute clam broth or  fish bouillon.  Always taste products like this first, since they can be salty. After the sauce cooks, cool slightly and carefully discard the fish bones if using. Use an immersion blender to puree the sauce then pass it through a food mill into a sauce pan. Keep the sauce warm over low heat.
The green olive tapenade is very easy to do and adds a briny contrast to the rich sauce. Cook the fish according to your favorite method, we use the Canadian fisheries method with consistent results. The sauce and the tapenade can be made several days ahead making this an impressive recipe for entertaining.
Baked Halibut with Bouillabaisse Sauce and Green Olive Tapenade
Serves four
Ingredients for the sauce
4 T extra virgin olive oil, divided
1-1 lb fennel bulb, trimmed and finely chopped
1 large leek, trimmed and finely chopped, white and light green parts only
1 medium white onion, finely chopped
2 celery ribs, finely chopped
2 garlic cloves, finely chopped
¼ t saffron threads
2 T Pernod or pastis (optional)
¾ c dry white wine
¾ c dry vermouth
1 pint cherry tomatoes, halved and smashed
½ t smoked paprika
2 lbs white fish bones, rinsed and dried
2 t fresh lemon juice (plus more for drizzling)
Kosher salt
Four 6-oz. white fish fillets like cod, halibut, grouper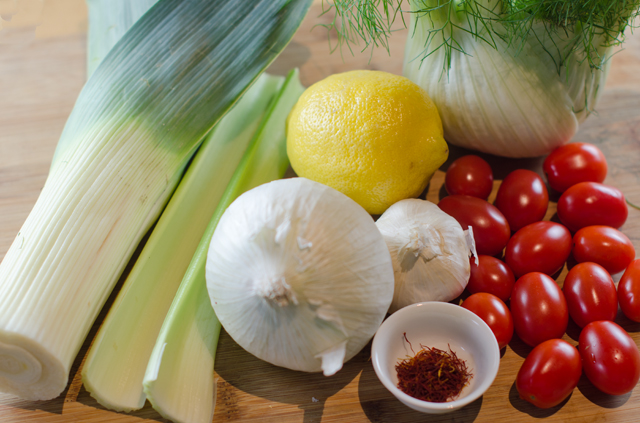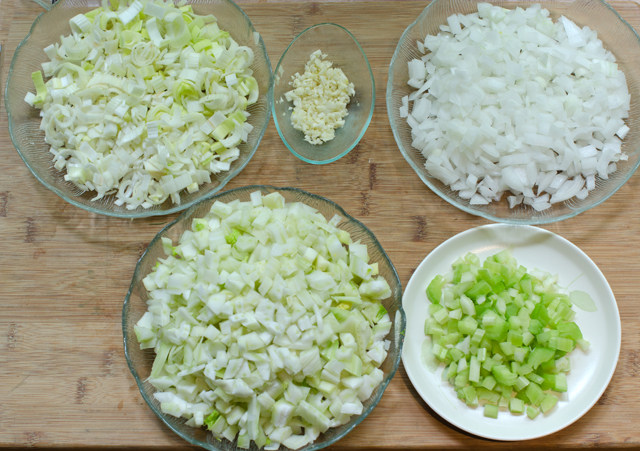 Directions for the sauce
In a large enameled cast-iron casserole, heat 2 tablespoons of the olive oil. Add the fennel, leek, onion and celery and cook over moderate heat, stirring occasionally until the vegetables are softened, about 8 minutes.
Stir in the garlic and the saffron and cook until fragrant, about 2 minutes
Add the Pernod (if using) and cook until the liquid has evaporated, about 2 minutes. Add the wine and vermouth and cook until the liquid is reduced by about half, about 8 minutes. Add the tomatoes and paprika and simmer over medium heat until the liquid is reduced by half, about 5 minutes.
In a large skillet, heat 2 tablespoons of the olive oil. Add the fish bones and cook over medium high heat, turning once, about 5 minutes.
Transfer the bones to the casserole and add two cups of water. Cover partially and simmer over moderately low heat for 30 minutes. Let the sauce cool slightly then discard the fish bones.
Using an immersion blender puree the sauce, then strain through the fine mesh of a food mill into a medium saucepan. Add 2 teaspoons lemon juice, season with salt and keep warm.
Ingredients for the Green Olive Tapenade
¼ c green pitted olives
2 T rinsed and drained capers
2 T flat leaved parsley
2 T extra virgin olive oil
1 ½ T fresh lemon juice
kosher salt and freshly ground pepper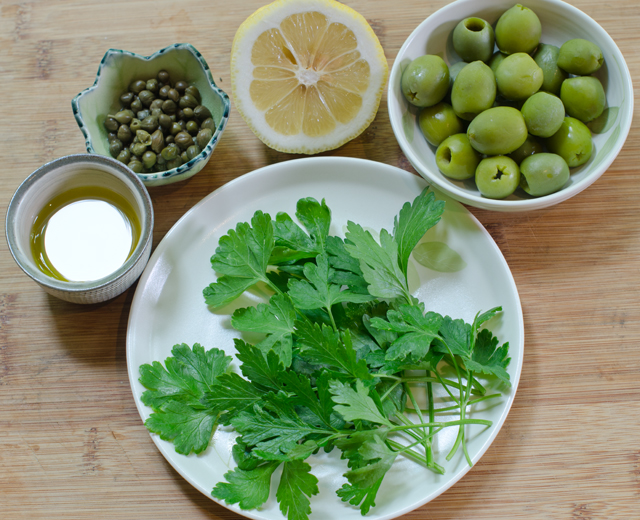 Directions for the Green Olive Tapenade
 Place the first five ingredients in the bowl of a mini food processor and pulse until combined and roughly chopped. Season to taste with salt and pepper.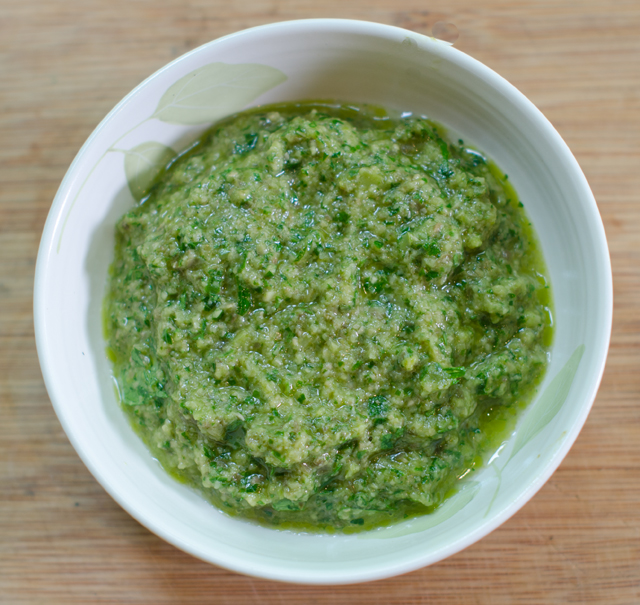 Cooking the Fish
Preheat oven to 450°F.
Coat a shallow baking dish with non stick spray. Season the fish fillets with salt.
Measure your fish fillets at the thickest point. Bake the fish for 10 minutes for every inch of thickness.
Finishing the Dish
Ladle the sauce into 4 shallow bowls and top each one with a cod fillet Spoon the tapenade over the fish. Drizzle with more olive oil and lemon juice. Serve immediately.