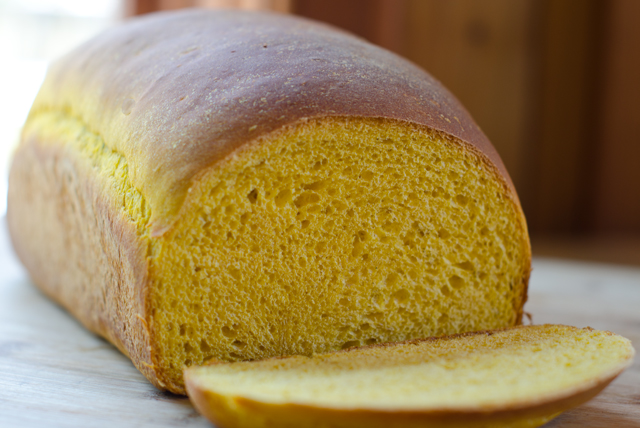 You might expect a recipe like this to be posted around Thanksgiving, but delicious homemade butternut squash rolls were the accompaniment to asparagus soup for Easter dinner. Usually the squash of choice in both sweet and savory breads is pumpkin, since I am still chipping away at my stash of butternut squash, it was an easy substitution.
I cut the squash in half lengthwise and baked it on a parchment lined baking sheet, cut side down at 375°F until it was very soft, about 45 minutes. I scooped out the squash then cooked it down a bit to get rid of any additional moisture to make a nice thick puree.
I slightly adapted a recipe from the King Arthur Flour site, with encouragement from a rating of 4.8 out of 5 stars and 106 positive reviews. The only problem was that the ingredients were a bit too much for my Kitchen Aid mixer. Once the initial ingredients were mixed together I separated them into two smaller pieces so they could be kneaded in the mixer without taxing it too much. I cut back on the sugar called for in the original recipe, since I was not attempting to make a sweet bread recipe and unlike pumpkin, butternut squash puree has some natural sweetness.
The bread and rolls turned out great, I served the rolls with the soup, the bread is well wrapped, well labeled and frozen for future use. I'm thinking bread pudding sometime soon.
Butternut Squash Bread and Rolls
Makes two loaves or 1 loaf and a dozen rolls
Ingredients
2 T active dry yeast
½ c lukewarm milk
2 large eggs
1 ½ c butternut squash puree
2 T vegetable oil
6 ½ c unbleached all-purpose flour (I prefer King Arthur)
¼ c brown sugar
2 ½ t salt
½ t ground ginger
½ t ground cardamom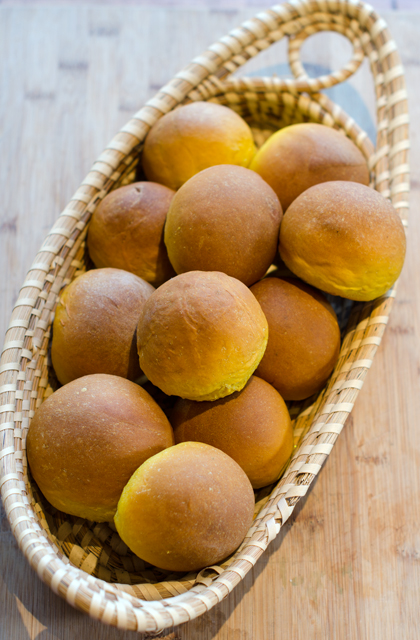 Directions
Place all the ingredients into a large bowl of a stand mixer and combine ingredients using the flat beater. Alternately, this could be done by hand or in a bread machine.
Once the ingredients are thoroughly combined, replace the flat beater with the dough hook and knead the dough until it is smooth and soft. I needed to do this in two batches.
Put the dough into a lightly greased bowl. Cover and let dough rise until doubled, 60 to 75 minutes.
Gently deflate the dough and turn it out onto a lightly oiled work surface. Divide it in half.
Shape the dough into loaves or rolls. The loaves can be placed into lightly greased 9″ x 5″ loaf pans or rolls placed on parchment lined baking sheets.
Cover the pans/baking sheets and let loaves/rolls rise until doubled, about 45 minutes. Toward the end of the rising time, preheat the oven to 350°F.
Bake the bread for 30 to 35 minutes. The crust will be a deep golden brown and a digital thermometer inserted into the center will register 190°F. Bake rolls for about 20 minutes until golden brown.
Remove bread and rolls from oven and turn out onto a wire rack to cool.  Cool completely and store, well wrapped at room temperature for several days. Freeze for longer storage.