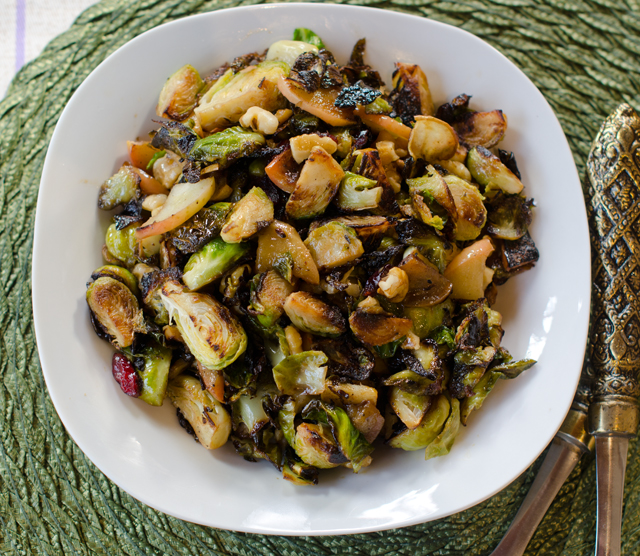 A delicious side dish for holiday entertaining, caramelized Brussels sprouts with apples and walnuts brings out the best in this often maligned vegetable. When Brussels sprouts are cooked in a heavy bottomed saute pan,(think cast iron)  they get brown and toasty. When they are cooked in some bacon fat, it even gets better. I save bacon fat in a container in the freezer for moments like this. If you don't store up bacon fat like me, a combination of butter and olive oil will do just fine.
Start by getting the pan hot and adding your fat of choice.  When I added the quartered Brussels sprouts, some of the leaves popped up in the pan like kernels of popcorn. Get some golden color on the Brussels sprouts before you add the chopped apple. I chose a Honeycrisp because of its super crisp texture and sweet juicy flavor. Feel free to substitute your own favorite, a Gingergold or Mutsu would work well here too. It will take a little more time in the sauté pan to cook the apple and tenderizing the Brussels sprouts. Please note I said tenderize, not turn to mush, they should still have a bite.
While the sprouts and apples are still warm, add the toasted walnuts and dried cranberries. Pour the dressing of sherry vinegar, honey, mustard and just a touch of olive oil over and lightly toss. Serve warm or at room temperature. Make it your own by substituting dried cherries for the cranberries, toasted almonds for the walnuts and a fruity balsamic for the sherry vinegar and honey. Maybe some crispy bacon too. Looks like I just created another recipe that I need to try.
Caramelized Brussels Sprouts with Apples and Walnuts
Serves 4-6
Ingredients
2 T butter
2 T bacon fat (can substitute olive oil)
1 pound Brussels sprouts, outer layer removed and quartered
1 Honeycrisp apple cut into small dice
1 c walnuts, toasted and chopped
2 T sherry vinegar
2 T honey
1 t Dijon mustard
1 T olive oil
¼ c dried cranberries
Kosher salt and freshly ground pepper to taste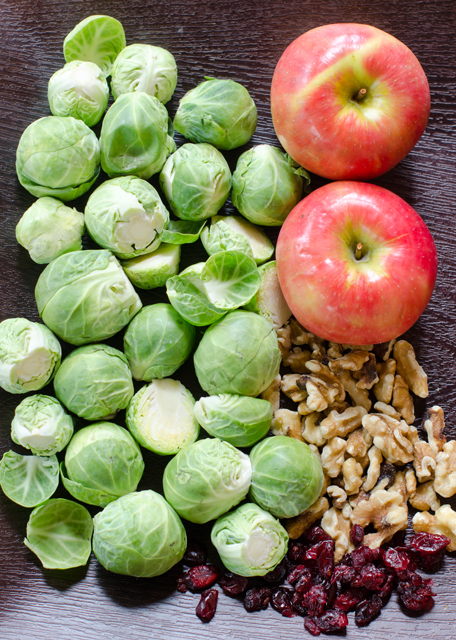 Directions
Heat a large heavy bottomed or cast iron skillet with butter and bacon fat over medium high heat. Add Brussels sprouts, season with salt and pepper and cook until the sprouts start to caramelize, about 4-5 minutes.
Add apples, toss to combine and cook until the sprouts and apples are caramelized and almost tender, another 3 minutes or more. Remove from the heat and add the walnuts and dried cranberries, toss lightly.
In a small bowl combine the sherry vinegar, honey, Dijon mustard and olive oil. Pour this over the Brussels sprouts and toss lightly.
Remove to a platter and spoon any additional liquid from the pan over the dish.
Season again with kosher salt and freshly ground pepper.