Smoked turkey has been a favorite of ours for many years. The original recipe we found came from the first cookbook Joe ever gave me, Better Than Store Bought. The book, a classic for the DIY cook features "authoritative recipes for the foods that most people never knew they could make at home". One of the many recipes that interested us was for smoked turkey. We invested in a water smoker and different varieties of wood chips, learned about brining and went to work. The results were delicious. The turkey was tender, succulent meat with a pleasing hint of smoke. It soon became a regular favorite on my catering menu, whether it was on a carving station or used in an hors d'oeuvre recipe. We still smoke turkey for parties, especially around the holidays. Inevitably there are leftovers and since the temperatures are going to plunge into the minus zero territory I thought a hearty smoked turkey lentil soup would be perfect to keep us warm.
This soup is rich in flavor in spite of its very simple ingredients. The turkey infuses the soup with deep rich smokiness. If you don't own a smoker, smoked turkey legs are available in many supermarkets. If you can't find smoked turkey legs, you can use smoked turkey sausage instead. You could even do this recipe with roasted turkey wings and legs.
If you are not already saving Parmesan rinds you should. Store them in your freezer where they will keep indefinitely.  Add one to your soup pot to infuse it with a subtle depth of flavor. It may totally dissolve in the soup, if not fish it out at the end of cooking along with the bay leaf.
Lentils are the perfect companion to the smoked turkey and they are very nutritious. A great source of antioxidants, vitamins A, D, E and K , the mineral selenium, lentils also contain high levels of soluble fiber and have zero cholesterol. Unlike other dried beans, lentils can be prepared the day of serving since a presoak isn't necessary. Spread lentils on a light-colored plate to check for stones or debris. Then place the lentils in a fine strainer under cool running water. Purchase lentils in a store where you know there is high product turnover to ensure freshness. If they are more than a year or two old, they will often stay crunchy in the center no matter how long you cook them. I used the Puy variety, they are mottled green-brown in color and have a robust peppery flavor.
I adapted this recipe for the slow cooker but it could be done just as easily on the stovetop. In a dutch oven, cook vegetables until softened, add remaining ingredients and simmer partially covered for an hour. To serve, remove bay leaf,  cheese rind, turkey wings and drumsticks. Remove the turkey meat from the bones and stir back into the soup pot. Ladle soup into bowls and top with a dollop of sour cream or yogurt.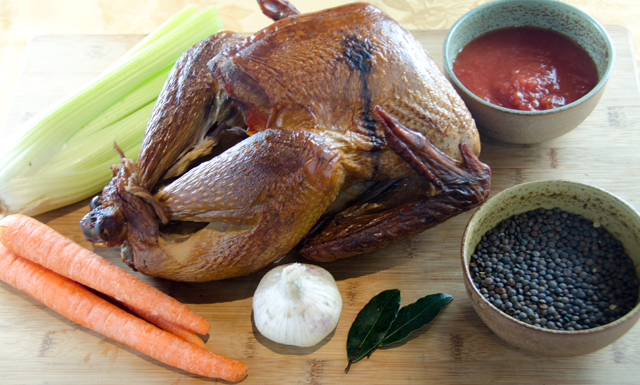 Smoked Turkey Lentil Soup
Serves 4-6
Ingredients
1 T extra-virgin olive oil
3 garlic cloves, peeled and chopped
2 celery ribs, finely chopped
2 carrots, peeled and finely chopped
1 medium onion, finely chopped
1 c crushed tomatoes
1 fresh bay leaf
1 cup lentils, green or brown
2 smoked turkey wings
2 smoked turkey legs
1 Parmesan rind (optional)
8 c chicken or turkey stock
Kosher salt and freshly ground black pepper
Yogurt or Parmesan cheese to top the soup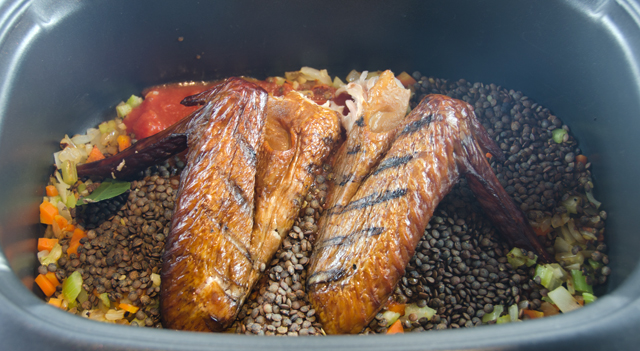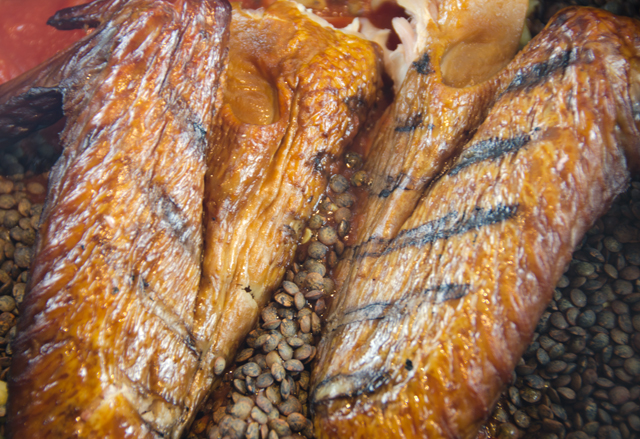 Directions
In a large pot, heat the oil. Add the garlic, celery, carrots and onion and cook over moderate heat until softened, 6-7 minutes.
Transfer vegetables to a large capacity 6 qt slow cooker.
Add the tomatoes, bay leaf, smoked turkey and stock optional Parmesan rind and simmer on the low setting for 5-6 hours.
Before serving, remove bones and large pieces of turkey from the pot; allow to cool slightly on a platter. Once cool enough to handle, separate meat from the bones and any unappealing connective tissue. Return meat to the pot and discard bones.
Ladle soup into bowls and garnish with sour cream or yogurt.