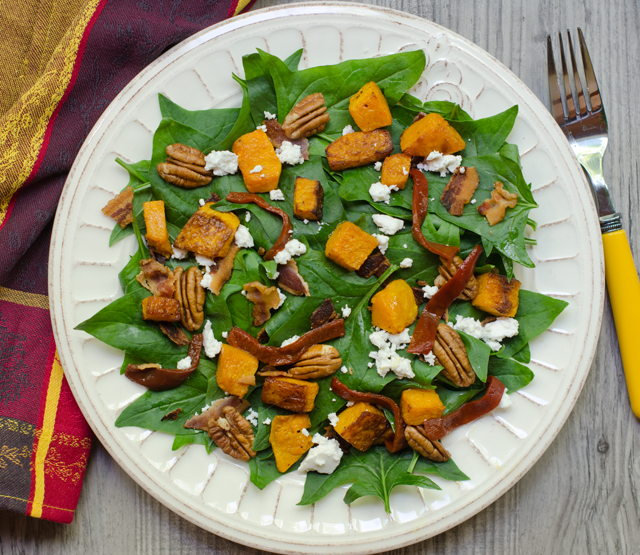 Spinach and butternut squash salad certainly isn't the first thing that comes to mind when you think of a spring dish, but right now it makes perfect sense to me. I still have a few squash to use from last fall's harvest and spinach plants that still have some nice leaves to offer before they go to seed.
Begin the recipe with a medium-sized squash, 2 to 2 ½ lbs, using a sharp knife, cut off a half-inch piece at the stem and base ends. Cut the squash in half where the neck meets the bulb. I find it easiest to use my Kuhn Rikon peeler to remove not only the skin but also the white flesh and green fibers below the surface, the peeled squash should be completely orange. Scoop out the seeds, I like to toast mine for snacking and can also be used to garnish salads and soups. Cut the squash into 1 inch cubes, they will shrink during the roasting process. Toss the cubes with olive oil and spread them out evenly on a lined baking sheet and season with salt and freshly ground pepper.
While the squash cubes are roasting, make the warm bacon dressing. Fry four slices of bacon in a large skillet until crispy. Place the cooked bacon on a paper towel lined plated to drain. Pour off the bacon fat into a metal bowl, the hot oil might melt a plastic bowl.  In the residual fat that is left in the skillet, saute a medium chopped shallot until soft. Stir in the other dressing ingredients along with some of the warm bacon fat, keep over very low heat.
Place the spinach leaves in a large bowl and toss with the warm dressing. I prefer to place the other ingredients on top of the individual salads rather than tossed with the spinach, since they are heavier and inevitably sink to the bottom. Rather than the traditional fall version of this salad that would include dried cranberries or pomegranate arils, I added some thin strips of roasted pepper. I used toasted pecan halves, some creamy feta, and some of the bacon crumbled on top to complete the salad. Make it your own with toasted walnuts or butternut squash seeds and crumbled Roquefort instead of the feta.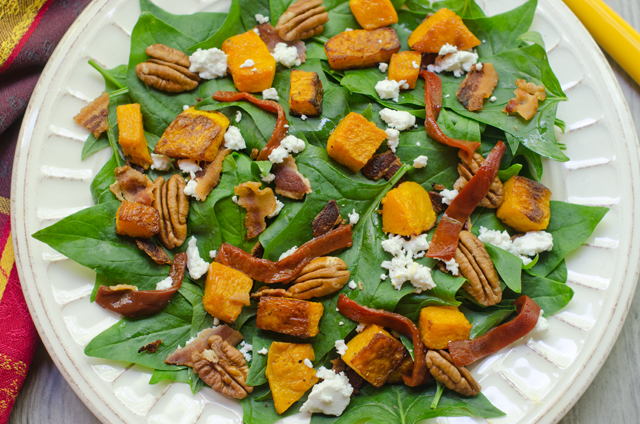 Spinach and Butternut Squash Salad
Serves two
Ingredients for the Salad
5-6 cups of spinach
1 medium butternut squash
1 T or more of extra virgin olive oil
½ c toasted pecan halves
¼ c roasted red pepper slivers
1/3 c crumbled feta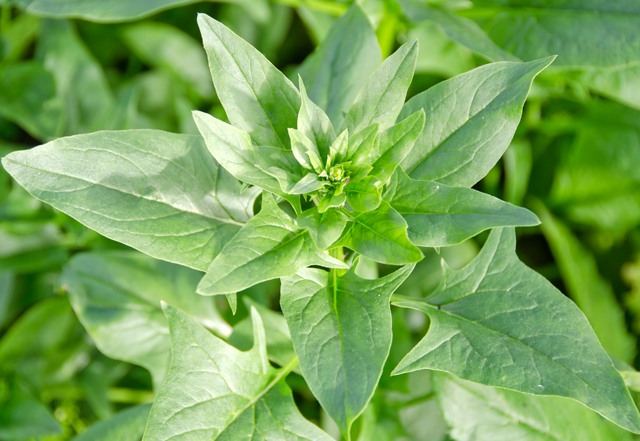 Ingredients for the Dressing
4 slices of bacon
1 medium shallot
¼ c apple cider vinegar
1 t Dijon mustard
1 T or more honey
Kosher salt and freshly ground pepper
Directions for the Salad and Dressing
Preheat oven to 400°F convection or 425°F standard. Line a large baking sheet with parchment or aluminum foil.
Peel and seed the squash, cut it into 1 inch cubes. In a large bowl toss the squash with olive oil and place evenly on the prepared baking sheet. Season with salt and pepper. Roast until golden brown, about 20 minutes, at the halfway point carefully move the cubes around on the sheet to ensure even browning. Set cubes aside to cool. You will have enough for several days worth of salads.
In a large frying pan, cook bacon over medium high heat until crisp, about 5 minutes. Transfer to a paper towel lined plate and pour the bacon fat into a small metal bowl.
Cook the shallot in the same pan until soft, 4 minutes. Stir in vinegar, mustard and honey and mix well. Whisk in two tablespoons of the bacon fat and stir to combine. Season with salt and pepper.
Place the spinach leaves in a large bowl and toss with the warm dressing. Divide the salad onto two plates. Top each with about a half cup of butternut squash cubes, pecan halves, pepper strips, feta and some of the crumbled bacon. Season to taste with freshly ground pepper.