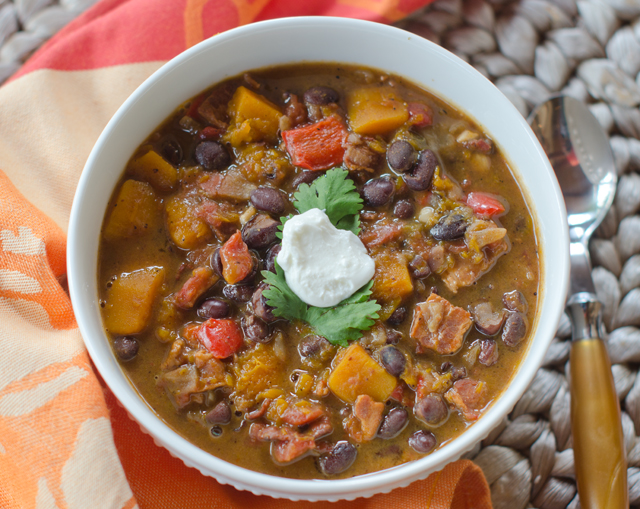 I am well aware that butternut squash is typically a sign that the cool crisp days of fall are approaching. But since I still have a large supply from last year's garden, I will be looking for ways to use them into the summer. And why not, butternut squash has a sweet nutty  flavor and creamy texture that pairs well with many ingredients and is loaded with vitamin A, C, potassium and fiber. Joe's opinion on the last variety I made, butternut squash soup with cannellini beans and sage pesto was,"I really like it, but bacon would make it even better". Since there are many who would concur that bacon makes just about anything better, I was up for the challenge.
Butternut squash, bacon and black bean chili is a delicious, hearty and slightly spicy chili that's great any time of the year. The sweetness of the butternut squash contrasts nicely against the salty bacon and the savory richness of the black beans.
It all begins with bacon, cooked over medium heat to render out the fat.  Restrain yourself from eating the bacon pieces, they will be added to the finished soup. Place the cooked bacon on a paper towel lined plate to absorb excess grease. Pour the fat through a fine strainer into a metal bowl. Don't use plastic, if the fat is hot, it could melt the container, I know from experience. Add 2 tablespoons of the strained bacon fat back to the pan and saute the chopped onion. The garlic, butternut squash and red pepper are added and cooked until soft. Chili powders, herbs, a can of tomatoes with chilis, and cook for one minute. Stir in the chicken broth and drained black beans and simmer until the butternut squash is tender.
I made this recipe with fridge and pantry ingredients. I think the chipotle chili powder adds a complexity with its smoky flavor. Other additions to the soup could include a finely chopped chili en adobo, cooked corn, avocado slices and tortilla strips. If desired, top with a dollop of sour cream.The flavors get even more complex over the course a few days and makes great leftovers and lunches.
 
Butternut Squash, Bacon and Black Bean Chili
Serves 4-6
Ingredients
3-4 slices of thick cut bacon, cut into 1-inch pieces
1 medium onion, finely diced
3 cloves of garlic, minced or pressed
4 c cubed butternut squash
1 c minced red pepper
1 t chili powder
½ t chipotle chili powder
1 t ground cumin
1 t oregano (preferably Mexican)
1-15 oz can tomatoes with green chilis, I used Rotel
1-15 oz can of black beans, drained and rinsed
3-4 c chicken broth
kosher salt and freshly ground pepper
cilantro leaves
sour cream
Directions
Cook the bacon in a Dutch oven over medium high heat. Remove bacon pieces to a towel lined plate to drain, strain the fat into a metal bowl. Add about 2 T bacon fat back to the pan and add onion and cook until soft, 5 to 8 minutes. Stir in the garlic, butternut squash and red pepper and cook until the vegetables are tender and the onion begins to brown, 12-15 minutes. Add more fat to the pan if needed.
Add chili powders, herbs and tomatoes with green chilis and cook for 1 minute. Stir in chicken broth and drained black beans. Simmer until the butternut squash is tender, 20 minutes or more. Add more broth as needed.
Stir in the bacon pieces, serve with sour cream and cilantro leaves.