Joe begins planning the vegetable garden right after the Christmas holidays. As always, he asked me if there was anything I wanted to add this year. I knew right away I wanted him to grow butternut squash. They were never planted before because the vines need considerable room to grow. Since the ever-expanding garden now includes an area near the orchard and the berry bushes, there would be some more room available. Last year he grew some loofah and bird house gourds in that area but since they were not going to be repeated, butternut squash got the okay.
Butternut is a variety of winter squash. The name is a bit of a misnomer however,  since all winter squashes are frost tender (the plants will die with the first frost) warm season (seeds must be planted when the soil temperature is above 65°) annuals (plants that complete their life cycle in one growing season). With a growing season of 110-120 days for full maturation, they are harvested in the fall and can be kept well through the cold winter months, hence the name. Summer squash like zucchini and yellow crookneck are harvested all summer long while the fruit is still immature and the skin is still tender. Not counting the ones that "get away" and could fill in for baseball bats. And yes, botanically speaking, both winter and summer squash are fruit since they develop from a flower and are the part of the plant that contains the seeds. Winter squash should only be harvested when fully mature. When winter squash is mature, the stem end will turn from green to brown and will appear that the stem is beginning to dry out. The skin should look dull, not shiny and it should be difficult to dent the squash skin with your fingernail. Winter squash do not require refrigeration but should be stored in a cool dark area.
Last weekend the harvest was finally ready and Joe brought them in by the wheelbarrows full, 60 in all. Some of the squash were slightly damaged and they will be the ones I use first. Some I will give away to friends and the rest we are storing on shelves in our basement.
Low in fat and rich in vitamins A, C, fiber and antioxidants, butternut squash is a great addition to many recipes. I like to roast cubes of butternut squash to add to my fall salads.The butternut squash seeds can be tossed with olive oil and salt and roasted for a crunchy snack or a salad topper.
The creamy texture of butternut squash makes a wonderful soup and I have recipes for two on the blog from years past, butternut squash soup with cider cream and butternut squash soup with Asian pear and ginger, both unique and delicious.
Because of fall's chilly temperatures, I wanted to make a more substantial main course soup. I liked the idea of roasting the vegetables on the baking sheet to bring out their natural sweetness. For easy clean up, I lined the baking sheet with parchment paper. The leek, pepper and squash should be cut into pieces all relatively the same size so they cook evenly. A medium dice works best here, about 1 to 1 ½ inches. Toss the vegetables with olive oil and spread out evenly on a baking sheet, don't overcrowd. Arrange the chicken thighs on top of the vegetables and season everything with salt and pepper. I think chicken thighs are the best choice for this recipe, the skin keeps the meat moist during the roasting process. Rotate the pan halfway during the cooking process to ensure even cooking.
Transfer the chicken thighs to a plate to cool and add the roasted vegetables to a pot along with the chicken broth and spices. Simmer over medium heat and use a potato masher or the back of a wooden spoon to mash-up some of the vegetables to give the soup a thick, chunky texture. Shred the chicken into bite sized pieces, discarding the skin and bones. Add to the soup and stir in fresh lemon juice, salt and pepper to taste. When the soup is almost done stir in the kale ribbons and cook until they are wilted, an additional five minutes. Additional add ins for this soup could include cannellini beans and fire roasted diced tomatoes. The soup can be frozen or stored in the fridge for several days.
Roasted Chicken and Butternut Squash Soup
Serves four to six
Ingredients
6 bone-in skin-on chicken thighs
1 medium butternut squash, (2½ to 3 lbs) peeled, seeded and diced medium
1 medium leek, sliced medium
1 small red pepper, diced medium  (I added a red poblano too for a little kick)
2 T extra virgin olive oil
Kosher salt and freshly ground pepper
4 c low sodium chicken broth
¼ t ground cumin
¼ t ground coriander
¼ t smoked paprika
2-3 cups of thinly chopped kale (avoid thick stems)
2 T fresh lemon juice
Fresh parsley or coriander (optional)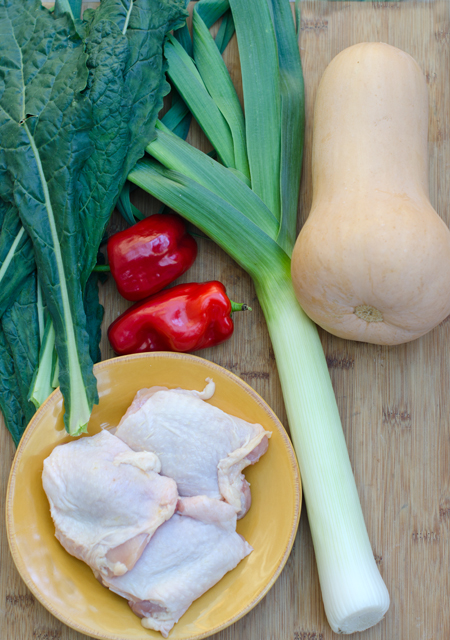 Directions
Preheat oven to 425°F. In a large bowl toss the squash, red pepper and onion with the olive oil. Spread evenly on a large baking sheet. Arrange the chicken thighs on top, spacing out evenly. Season everything with salt and pepper.
Roast until the squash and chicken are cooked through, rotating pan halfway through the cooking process.
 Transfer the chicken to a plate, loosely cover and let cool. Transfer squash and onions to a medium pot and broth, cumin, coriander and smoked paprika. Simmer over medium high heat.
With a potato masher or the back of a  wooden spoon, mash some of the vegetables until soup is thick and chunky.
Discard the skin and bones from the chicken, cut meat into small pieces and add to the soup. Stir in lemon juice and season with salt and pepper.
Stir in the thinly chopped kale and cook for five minutes more, until the kale is wilted. Taste and adjust seasonings, To serve, top with fresh parsley or cilantro.