String or snap beans are in season from mid summer to early autumn and we have had a steady stream of them since the middle of July. Joe grows both pole and bush varieties.  Pole bean plants fare best when they are given support to grow, like a trellis or a teepee while bush beans grow on their own without added support. The bush beans were the first to produce, followed by the later maturing pole beans and now the bush beans are producing again. The crop this year has been quite successful and at times, overwhelming. I froze quart bags of blanched beans for fall and winter days when I will miss being able to pick them fresh. I even pickled a few jars of the very slim and straight filet beans.
In the cooler months we serve them hot, simply seasoned with garlic and thyme, but in the summer I like to serve them along side grilled vegetables in a cold salad. My latest inspiration, Mixed Bean Salad  came from Yotam Ottolenghi and Sami Tamimi's cookbook, Jerusalem. Jerusalem won the IACP cookbook of the year in 2013 and was the 2013 James Beard award winner for the best international cookbook. The recipes are very approachable, not too "cheffy" and introduces the reader to the vibrant multicultural cuisine of that city.
The "mixed" in the mixed bean salad refers to the combination of green and yellow beans paired with red pepper strips. Mr Ottolenghi likes yellow beans for their tenderness and the look they bring to the dish.  This is the best time of year to find them at the farmers markets and we have no shortage here. If you are making this and yellow bean are not available, substitute all green beans.
In his introduction to the recipe, Mr Ottolenghi states that string beans are symbolic of the Jewish New Year but he didn't indicate how, so I did a little research of my own. Beans are mentioned in the Talmud as "ruviah" and are symbolic because their Hebrew name sounds like the Hebrew "to increase" and indicates a desire for increased blessings in the new year. Reminds me of the symbolism of foods associated with Chinese New Year.
Begin the recipe by blanching the beans until tender crisp. Look for beans that are relatively the same size in diameter so they will cook in the same amount of time. If you are not sure if the beans are ready, test one for doneness before draining the pot. Roast red pepper strips that have been tossed in olive oil until they are tender. They make a beautiful contrast to the green and yellow beans.  Next step are the aromatics, lightly toasted garlic, then capers that bring a salty element and their own unique texture. Rinse the capers well and dry them, careful when you add them to the oil, they will spit, so you might want to use a spatter screen. Cumin and coriander seeds are bloomed in the olive oil to best bring out their aromas and flavor.   Pour the warm dressing over the beans and pepper strips and toss. Green onions, herbs, lemon peel, salt and pepper are the next addition to the dish.
The original recipe calls for 2/3 cup chervil, not an easy or common ingredient for the home chef.  I have never seen it sold in the supermarket or even at our local farmers market for that matter.  We have an abundance of it that comes up from seed in the early spring and bolts as soon as the weather gets hot.  He suggests a substitute combination that everyone has access to, dill and parsley.
I will not mislead you, this is not a salad you can whip together in 15 minutes, but it is certainly worth making. Step one for me is a trip to the garden for beans, peppers and herbs.  It is very important for your ingredients to be "mis en place" ready to go so the warm dressing will thoroughly season the beans and peppers. I have had my cookbook only two weeks and I have made this salad twice and plan on making it again for a Labor Day picnic. I think that constitutes a winning recipe.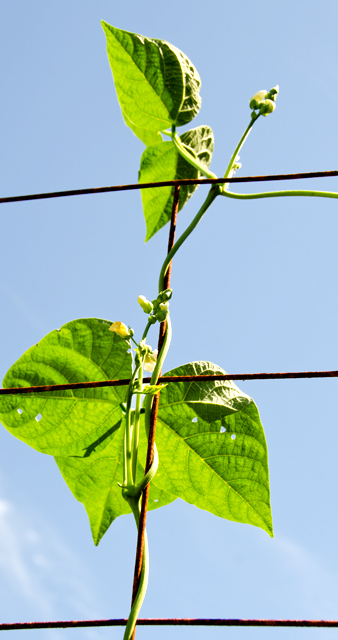 Mixed Bean Salad
From the Jerusalem Cookbook
Ingredients
1¼ lbs. mixed green and yellow beans
2 medium sweet red peppers, cut lengthwise into ¼ inch strips
4T olive oil-1T for the peppers, 3T for the salad
3 cloves garlic, thinly sliced
6T capers, drained, rinsed and patted dry
1t cumin seed
2t coriander seed
4 green onions, thinly sliced
1/3 c each, roughly chopped tarragon, dill and shredded parsley.
Grated zest of one lemon
Kosher salt and freshly ground pepper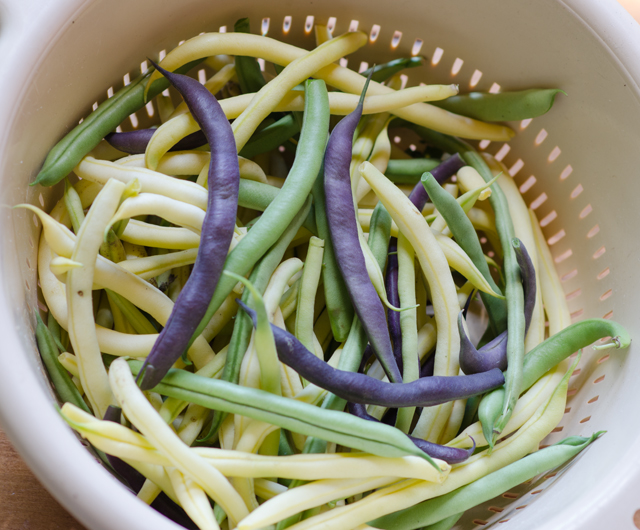 Directions
Preheat the oven to 450°F.
Bring a large pot of lightly salted water to a boil. Add the beans to the pot and cook for 4-5 minutes, take a bean out at this point to check doneness. It should be cooked through but still be "toothsome". When done, immediately drain in a colander and refresh the beans with very cold water. Drain well, pat them dry with a towel and place in a large bowl.
Toss the pepper strips with a teaspoon of olive oil, then spread them out on a baking sheet. Bake for five minutes or until tender. Add pepper strips to the bowl of cooked beans.
Heat the remaining 3 tablespoon olive oil in a small saucepan. Add the garlic and cook for 30 seconds; add the capers (be on guard for spatters) and fry for 15 seconds. Add the cumin and coriander seeds and continue frying for another 15 seconds. The garlic slices should be golden by now. Remove pan from the heat and pour this over the bowl of beans and pepper strips. Toss and add the green onions, herbs, lemon zest, salt and pepper to taste.
You may serve immediately or refrigerate up to one day. Just remember to bring the salad back to room temperature before serving.