Thanksgiving evening, the turkeys and the side dishes were out and we were ready to serve dinner buffet style from the kitchen. Then I noticed it, the double steamer basket and a small container next to it. I forgot, also read, "got too busy" to make the green bean dish I had prepped ahead. Not that we would miss it. After slurping down Chesapeake Bay oysters, butternut squash soup with cider cream, homemade breads, a salad of baby greens and spinach from Joe's greenhouse, we were ready for the main event. Turkeys, roasted, grilled and smoked, roasted vegetables, yam casserole, stuffing, zucchini, no one would starve for certain. The green beans could wait for another day.
We grow both pole and bush style beans. Green beans, yellow or wax beans and purple beans are in abundance courtesy of the garden from July to early September. Green beans are not in season now so I bought the skinny "haricot verts" that would cook quickly in the steamer basket. Always looking for a new twist on the beans, a recipe from Food and Wine magazine would fit the bill. Green beans with parsley lemon pesto sounded like a great way to feature the beautiful flat leafed parsley still thriving in the greenhouse. Like most people, when you say pesto I immediately think basil. This is a recipe for winter months without basil and combines toasted pine nuts with parsley, garlic, lemon and olive oil. The dish comes together fairly easy, the pesto can be made a day ahead and then tossed with the steamed beans.
Pine nuts are the edible seed of a pine cone. Every pine tree produces seeds but less than a third of the varieties produce seeds that are large and flavorful enough to eat. To say pine nuts are expensive would be an understatement. I read that Italian pine nuts have been going for as much as 60 to 120 dollars a pound due to bug infestations and weather conditions. The small container of Italian pine nuts I purchased was weighed by the quarter pound, by the pound I estimated them to cost about thirty eight dollars. Even Chinese pine nuts have gone up in price. If you decide to purchase Italian pine nuts for any dish  just be sure they are out of harm's way so they don't become someone's late night snack. Walnuts or almonds would be a more reasonably priced alternative and just as flavorful. The amount of pesto is enough for four pounds of green beans, I only cooked a pound of beans because we had quite a few side dishes. Leftover pesto could be tossed with pasta or used as a spread on a turkey sandwich.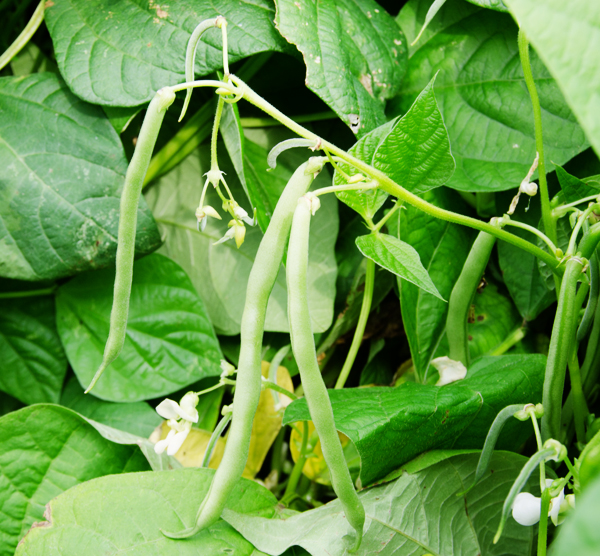 Green Beans with Parsley Pesto
Serves 6-8 as part of a buffet
Ingredients
1/2 cup pine nuts
2 cups flat-leaf parsley leaves
1 garlic clove, crushed
1 teaspoon finely grated lemon zest
1 tablespoon fresh lemon juice
1/4 cup extra-virgin olive oil
Kosher salt
Freshly ground pepper
1 lb. green beans (I prefer using the thinner haricot verts)
Lemon wedges, for serving
Directions
In a small skillet, toast the pine nuts over moderate heat, tossing, until golden, about 5 minutes; transfer to a food processor and let cool completely.
Add the parsley, garlic, lemon zest and lemon juice to the food processor and pulse until the parsley is very finely chopped. With the machine on, gradually add the olive oil and process until the pesto is nearly smooth. Season with salt and pepper and scrape into a large bowl.
Put a steamer basket in the bottom of a pot. Fill the pot with 1 inch of water, add salt and bring to a boil. Add the green beans, cover and steam until bright green and crisp-tender, 8 to 10 minutes. Drain the beans and transfer to the large bowl. Toss with enough pesto to coat and season with salt and pepper; serve with lemon wedges.
Make Ahead The pesto can be refrigerated overnight. Bring to room temperature before tossing with the beans.